Bee Bird House - COYNESD2573
Place mouse over image to Zoom/Magnify
Bee Bird House - COYNESD2573.

Features:
Crafted of high-fired porcelain.
Finished with rich earth-tone glazes.
Nature's Garden is a line of functional garden accessories.
Whimsical and unique Songbirds, Birdhouses, Birdfeeders, Fountains.
Individually packaged for eye-catching memorable gift-giving
Dimensions: 5 1/2 inches x 7 inches x 5 1/4 inches.
---
Reg. Price: $21.99
Sale Price: $19.99
Fast Shipping!
Most orders leave our warehouse the same business day if orders are placed before 1:00 P.M. CST.
Recommended Accessories:

Hummer Helper Cage and Nesting Material.
The Only Nesting Material Proven to be used by Hummingbirds!
Includes hanger full of material. Hummer Helper helps take the place of spider webs and lichen in lining the tiny nests. Note: Goldfinches, Titmouse, and other birds also use it!
Hummingbird Feeder Ant-Guard.
Nectar Protector - Clear. Fill with water and prevent ants and insects from invading your feeders.(Ants Can't Swim!)
Audubon Bird Cam.
Perfect for backyard and family use. Weatherproof, motion-activated, and easy-to-use, this digital BirdCam captures photos and videos of your birds while you are away. Records to SD card or internal memory. No tools, wiring, or software required. Many mounting options. Smart Sensor technology ignores feeder movement and minimizes empty shots!
Hummer Helper Helmet.
Protect your hummingbird feeder from the sun and prolong the life of the nectar.
Color red to attract hummingbirds.
Best Hummingbird Combo Set.
A brush kit that can clean every part of every Oriole and Hummingbird feeder!
Keep your hummingbirds safe from disease with regular cleaning.
Clear Hummingbird Nectar.
32 ounce, ready-to-use. No mixing necessary! Ready to pour into feeders! Made with Sucrose sugar - The sugar that most closely simulates the nectar from flowers.
Return from Bee Bird House to Gifts

Recommended
Accessories
Have Hummingbirds Nest In Your Yard!

Hang this nesting material in your yard
Watch for a hummingbird taking the nest material
Follow her to the nest
Enjoy the observations & photo opportunities of the babies!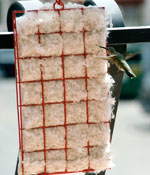 More Info
---
Now You Can Watch This On Your TV!

Hang the Spy Cam near the nest
Hook the cable to your TV
Watch the Babies right on your TV!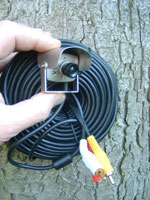 More Info
---
Want to Refill Your Feeders Less Often?

Hang the Hummer Helmet over your feeders
Prolongs the life of the nectar
Keeps squirrels from your feeders!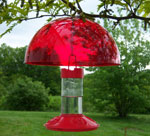 More Info
---
Are Ants Feasting on Your Feeders?

Hang the Ant Moat over your feeders
Fill with water
Voila! Ants can't swim!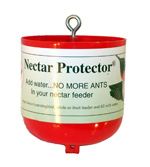 More Info
---
Prevent Catastrophes at Your Window Feeders?

Stick a Window Decal on your window
You can see through
Hummers see it as a barrier!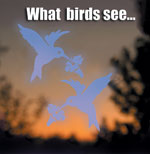 More Info
---
Turn Your Feeder Into A Window Feeder?

Stick the suction cup hanger on a window
Hang your feeder of choice
You now have a Hummingbird Window Feeder!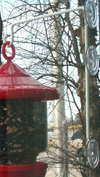 More Info
---
Ready To Use Nectar!

No mixing, ready to use
No Dyes or Additives
Most closely simulates nectar from flowers!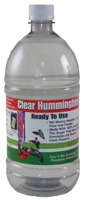 More Info