The BEST Hummingbird Feeder!

What Is The Best Hummingbird Feeder?
Unfortunately, we cannot answer that!!!
The "Best" hummingbird feeder is a matter of opinion rather than performance, even though there are "positives" and "negatives" attributed to feeders.
I will start by breaking down the basics along with their respective "positives" and "negatives".
BASIC TRAY FEEDERS:
Basic tray (saucer type) feeders are just that..........
a simple tray (saucer) that holds nectar, with a...........
Lid that has ports to access the nectar and a...........
Rod extruding up to serve as a hanger.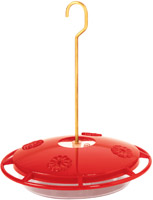 Positive Features:
These are easy to take apart, clean and fill.

Negative Features:
These don't hold much nectar because of a smaller capacity so they will need to be refilled more often.

BOTTLE FEEDERS:
Bottle feeders have an inverted container (bottle) made of glass or plastic which holds the nectar.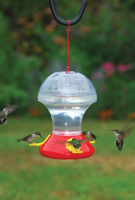 These function by a vacuum principle.....when the container or bottle is hung upside down an air pocket forms at the top which creates the vacuum.
The container is either screwed into a tray (saucer) or has a tube(s) protruding from the bottom to serve as a port(s) to access the nectar.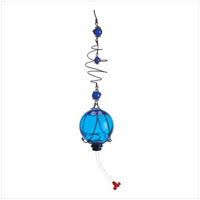 Positive Features:
Easy to see the nectar level

Have a greater capacity

Available in a wide array of attractive shapes, colors, and intricate details.

Negative Features:
More difficult to clean and fill than the basic "tray" feeder.

Plastic containers can break down from the effects of the weather.

If a tiny crack or hole develops, this will break the vacuum and leaks occur which will attract insects.

Other Considerations for the "Best Hummingbird Feeder:
There are trays and tubes without perches which will present a photo opportunity of a hovering hummingbird.
There are trays with perches which will give the little guys (gals) a rest and in turn will usually stay at the feeder longer.
---
Hummingbird Guide

›
Hummingbird Feeders
› Best Feeder
---