Hummer Helper
Nesting Material Kit -
SE7021
Give Them a Helping Hand
When They Arrive!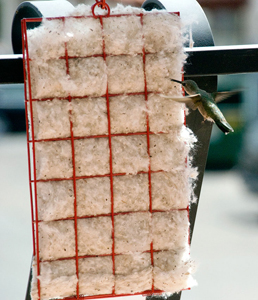 Hummer Helper Nesting Material Kit.
Features:
The Only Nesting Material Proven to be used by Hummingbirds!

Displaying nesting material provides an opportunity to help the birds search for suitable materials and ensure many hours of entertainment as they raise their family in your yard.

Includes hanger full of material. Hummer Helper helps take the place of spider webs and lichen in lining the tiny nests.

Note: Goldfinches, Titmouse, and other birds also use it
Keep a Refill nesting material on hand!

---
Price: $16.99
Fast Shipping!

Most orders leave our warehouse the same business day if orders are placed before 1:00 P.M. CST.
Hummingbird Guide

›
Accessories
› Dr.JB's Feeder Replacement Port Flowers