Hummingbird Vine

One fast way to attract hummingbirds is to plant a hummingbird vine.
There are two vines that are often called the "Hummingbird Vine".
They are the "Cypress Vine" (Ipomoea) and the "Trumpet Vine" (Campsis radicans).
The "Cypress Vine" is an annual in colder zones.
You need to replant the seeds each year.
In warmer planting zones, it is a self seeding annual.
So there isn't any need for replanting.
The "Trumpet Vine" grows well as a perennial in Zones 4-10.
These extremely hardy plants can grow tall the first year.
To the delight of the hummingbirds, the trumpet shaped flowers of either vine have a high nectar reserve.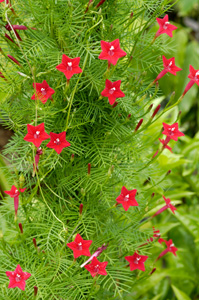 Cypress Vine


Planting Intructions for the Hummingbird Vine (Trumpet Vine).
Step 1.
Plant vine in full or partial shade.
Step 2.
This is a climbing vine so plant it next to a wall, arbor, or fence.
It is usually not a good idea to plant too close to your house because they can grow to an invasive size.
Try a location that can be easily viewed in order to watch the hummingbirds as they come to feed on the luscious nectar.
Step 3.
It is a good idea to prune the vine in the spring or early fall.
Otherwise, it might become too large.
Step 4.
Deadhead (this simply means cut off the dead flowers) when the flowers die.

It will also look more attractive when you do this.
Step 5.
Water when you experience very dry periods.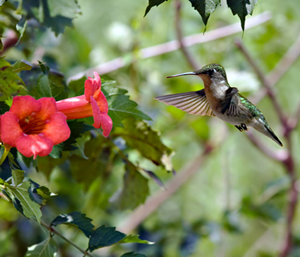 Trumpet Vine
You may need to know that in some climates people find this vine to be too invasive.
It can be difficult to destroy once this happens.
Again climate can be an important factor.
You can ask your nursery for advice about your particular climate in regard to this vine.
We have heard of a trick used by some people to prevent this problem.

They cut out the bottom of a large planter and planted the vine underground in the planter.
If you try this trick or any other, please let us know how it works.
We would like to pass the results on to our readers.
A particularly wonderful feature of this gorgeous vine is that it sometimes provides a cozy place for hummingbirds to hide their nests.
That in itself can be a major payoff...............
Lots of Hummingbirds!!
Another popular vine that can be labeled a hummingbird vine is the morning glory vine. In the northern planting zones where the trumpet or cypress vines will not survive, and alternative is the morning glory.
Here is a close-up of our morning glory vine growing on the corner of our log house:
The morning glory is an annual and needs to be re-planted every year. However, we have found them very easy to grow and quite prolific.
Planting instructions for the Morning Glory Vine:

1.  In the Fall, after the frost has killed the plant and the leaves and seed pods have dried up, pick the seed pods.
2.  Spread them in a flat sheet or container to dry them.
3.  Once they are dry, they can be store in a plastic sandwich bag in a dry
     place.
4.  In the Spring, pick a spot where there is structure for the vine to climb.
     For example: the corner of a house, an arbor or a fence.

5.  Loosen the soil, break open the pods to release the seeds and plant them about 1 to 2 inches deep.
We enjoy the hummers visiting our Morning Glory Vine every day.

We picked the seed pods from the year before, planted the seeds in the Spring at the corner of our log house and here is the result in July:

---
Hummingbird Guide

›
Hummingbird Flower Garden
› Vines
---