Perky Pet
Window Hummingbird Feeder
PP217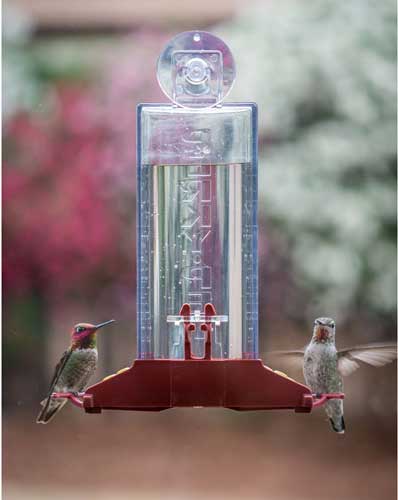 Perky Pet Window Hummingbird Feeder.
Features:

An exciting way to watch hummingbirds feeding.

Features an easy to clean wide-mouth design.

Easily attaches to window, wall, or post.

A clear acrylic feeder bottle with quick release clips for convenient filling.

Two feeding stations with perches.

No-Drip Feeding Base. Handy 8-ounce capacity.
---
Price: $15.99
Fast Shipping!

Most orders leave our warehouse within 1 to 2 business days!

Hummer Helper Cage and Nesting Material.
The Only Nesting Material Proven to be used by Hummingbirds!
Includes hanger full of material. Hummer Helper helps take the place of spider webs and lichen in lining the tiny nests. Note: Goldfinches, Titmouse, and other birds also use it!



Hummingbird Feeder Ant-Guard
Nectar Protector - Red. Fill with water and prevent ants and insects from invading your feeders.(Ants Can't Swim!)

BirdCam Pro.
Perfect for backyard and family use. Weatherproof, motion-activated, and easy-to-use, this digital BirdCam captures photos and videos of your birds while you are away. Records to SD card or internal memory. No tools, wiring, or software required. Many mounting options. Smart Sensor technology ignores feeder movement and minimizes empty shots!


Hummer Helper Helmet.
Protect your hummingbird feeder from the sun and prolong the life of the nectar.
Color red to attract hummingbirds.


Best Hummingbird Combo Set.
A brush kit that can clean every part of every Oriole and Hummingbird feeder!
Keep your hummingbirds safe from disease with regular cleaning.

Nectar Aid Self Measuring Pitcher
The fastest and easiest way to mix and pour nectar for Hummingbirds and Orioles. Nectar Aid is a mixing pitcher, measuring cup, microwave container, mixing spoon, funnel and storage container.




Hummingbird Guide

›
Window Feeders
› Dr. JB's Window Hummingbird Feeder