Here is a Decorative Feeder Review and Basic Feeder Review which I believe is the BEST of the basics!

A Tray Feeder and Window Feeder Reviews:

Use promo code: "thehummer" for a Special 10% Discount to our e-zine subscribers which you can use on your whole order in our STORE.
---
We Now Have a New Hummingbird Photo Gallery Page of our visitors Photo Submissions!
Our Photo Gallery Page was requested by many of our visitors and now their wishes are granted!
To view larger images/photos on the page, click one of the photos and it will enlarge with arrows on the left and right side of the image to either advance to the next photo or go back to the previous one.
We hope you enjoy the gallery and we urge everyone to submit their photos to be included in the gallery.
---
Astonishing facts about hummingbird mating!
Maybe you have seen the male hummingbird's incredible diving ritual to attract females!
Vist the Mating Page to Learn More!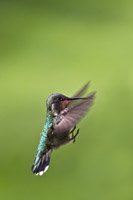 ---
Our Website is now "Mobile Friendly"!
Add our website to the "Homescreen" of your Smartphone to have quick and easy access to follow the Hummingbird Migration as we update your sightings.
---
Visit Our Social Network!
If you haven't already, you just might like to become a fan!

It's "A-buzz" with activity and has been growing by leaps and bounds!
We now have over 4500 fans, over 400 more since our last newsletter.
We have many new visitor photos, videos and conversations.
We would love to see your photos and videos, come join the fun!

Just this week we added a YouTube channel.

You Can Follow Us on

Do you like to TWEET!

Join Us on

.

.
---



The Hummingbird Guide Store!

Please visit Our Store. There is a large selection of decorative, unique, basic hummingbird feeders along with many accessories such as the ant moats and brushes. Also, we have many beautiful "Woodstock" wind chimes available, Gifts and Birdbaths.

Use promo code: "thehummer" for a Special 10% Discount to our newsletter subscribers which you can use on your whole order in our store.

---
Advertise Here!
Do you have a hummingbird related product, destination, tours, classes, business or anything related to hummingbirds......... contact us about advertising in our Newsletters.
---

Suggestions? Ideas?.......... We would love to hear your thoughts about our future e-zines. Please Contact Us with your input.

Enjoy the rest of the Summer!

I saw a hummingbird today..........


Sweetness and Joy is on the way!

See you soon,

Jim & Ruth

The Hummingbird Guide "Home Page"