COVID-19 ALERT: Unfortunately, stock of many items at our distributor is on backorder due to the pandemic and manufacturing issues. Their stock changes from day to day even hour to hour, so it is almost impossible to keep up with it. As a result, you may get a notification that your order is on backorder for a short time. We are very sorry for the inconvenience and thank you for your patience.
Stay safe and thank you for your patience and choosing
The Hummingbird Guide.
Stay In Touch With
The Hummingbird Guide
Newsletter

If you are a "Hummingbird Enthusiast"......
---

---
Sign Up here

....and would like to learn more about them, how to attract them, how to keep them at your feeders, tips and reviews of the latest hummingbird products, discount promotions from our store, festivals, birding tours, and anything interesting relating to hummingbirds that we can find for you, please subscribe to "The Hummer", our monthly e-zine so you don't miss a thing.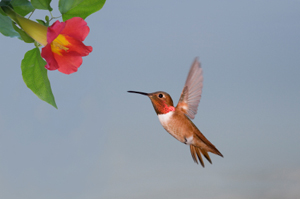 We will be updating and growing this site with more and more information, tips, news, etc.
When you subscribe you will receive a 10% discount promo code for our store and a link to our printable Hummingbird Nectar Recipe.
See our Back Issues
---
Hummingbird Guide Newsletter
---