Hi
OUR SWEEPSTAKES WINNER!


Enjoy a 10% Discount on Everything in Our Store.
---
"The Hummer" Newsletter brings you the latest additions to The Hummingbird Guide website, many useful tips to learn more about them, how to attract them, how to keep them at your feeders, tips and reviews of the latest hummingbird products, discount promotions from our store, festivals, birding tours, and anything interesting relating to hummingbirds that we can find for you.

If you like this e-zine, please do a friend and me a big favor and "forward it".

If a friend did forward this to you and if you like what you read, please subscribe by visiting... Our Sign-Up Page.
---
Issue #013, May 16, 2015.
In this Issue:
1) Announcing Our Sweepstakes Winner.
2) Updated Hummingbird Migration Sightings & Map 2015.
3) Our New Mobile Friendly Site.
4) Hummingbird Nesting.
5) Our New Live Streaming Bird Cam.
6) Most Popular Hummingbird Products and Special Discounts!
7) Hummingbird Guide Social Network.
8) Shop for Everything Hummingbirds....Special subscribers discount.
9) Advertise in our Newsletters.
10) Contact Us with your suggestions for future E-zines

---
Announcing the Winner of Our Sweepstakes!
Congratulations to Darla Peduzzi who was randomly picked by our contest app!
We hope you enjoy your prize (2 Dr. JB's Feeders)!
We're sure they will attract lots of hummers!
Check Our Contest Page often for future sweepstakes!
---
The Hummingbird Migration 2015!
Where Are They Now!
April has come and gone and is filled with your migration sightings!
We're sure everyone appreciates all who submited their sightings to track the migration!
Our hummers arrived here in northern Vermont on May 5th and when they finally reach us, it's a good indication that the migration is almost over. br>
---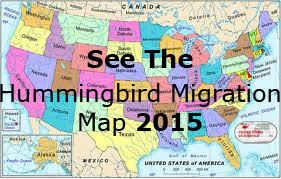 ---
Our Website is now "Mobile Friendly"!
Add our website to the "Homescreen" of your Smartphone to have quick and easy access to our new live streaming bird cam, frequently added new topics regarding hummingbirds, answers to your feeder questions in our Tips/FAQ section, our visitor photo submissions (which we highly encourage) and updates to current topics.
---
Hummingbird Nesting!
Hummingbirds Are Amazing Mothers.....Find Out Why!
A tiny hummingbird's nest is a wonder of nature!
Give them a helping hand with our "Hummer Helper Nesting Material"!
The Only Nesting Material Proven to be used by Hummingbirds!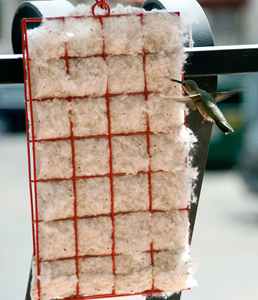 Learn about Hummingbird Nesting!
We're Excited to Introduce Our
"Live Streaming Bird Cam"!
We have a live streaming nature cam of a Chickadee nesting in a bird box in our yard. She started buiding her nest on April 29th, laid 6 eggs over the last week and started the incubation process on May 14th.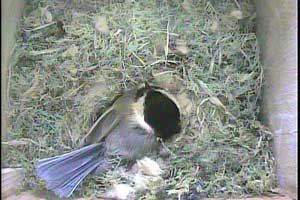 Visit our streaming page and check back often to watch the little ones hatch and grow.
Don't worry,....

We won't forget our beloved Hummers!
We will move the camera to our hummingbird feeders when the little Chickadees fledge the nest. We will be broadcasting live streaming of our hummingbirds until they leave on their Fall migration trip south.
---
Popular Hummingbird Feeders and Accessories!
Here is our latest new accessory: The Self Measuring Nectar Pitcher.
I say,
"Once you use it, you'll NEVER want to mix nectar again without it!"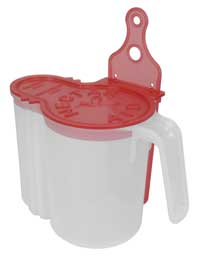 Here is our latest new feeder: The Hummingbird Haven Tray Feeder.
The Songbird Essentials Hummingbird Haven claims to be...

"the easiest to clean feeder that you will ever own!"
Here is my favorite Window Feeder. I watch my hummers from our kitchen window.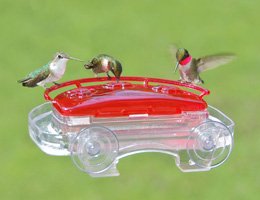 SEE MY VIDEO REVIEW!
This great looking Solar Lighted Hummingbird Feeder serves double duty in your backyard or garden.
By day, it's a functional 4-port nectar feeder that draws Hummingbirds for your viewing pleasure.
By night, the feeder becomes an LED color-changing light show.
Have you ever wished to hand feed a hummingbird? Now you can with this Hand Held Hummingbird Tube Feeder. Great Fun! Kids Love It Too!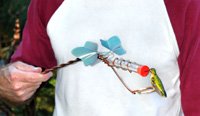 To Attract More Hummingbirds, Hang More Feeders!
Here is a beautiful Decorative Feeder and Basic Feeder which I believe is the BEST of the basics!

Two of our most popular Accessories:

Use promo code: "thehummer" for a Special 10% Discount to our e-zine subscribers which you can use on your whole order in our STORE.
---
---
Visit Our Social Network!
If you haven't already, you just might like to become a fan!

It's "A-buzz" with activity and has been growing by leaps and bounds!
We now have over 4500 fans, over 400 more since our last newsletter.
We have many new visitor photos, videos and conversations.
We would love to see your photos and videos, come join the fun!

Just this week we added a YouTube channel.

You Can Follow Us on

Do you like to TWEET!

Join Us on

.

.
---



The Hummingbird Guide Store!

Please visit Our Store. There is a large selection of decorative, unique, basic hummingbird feeders along with many accessories such as the ant moats and brushes. Also, we have many beautiful "Woodstock" wind chimes available, Gifts and Birdbaths.

Use promo code: "thehummer" for a Special 10% Discount to our newsletter subscribers which you can use on your whole order in our store.

---
Advertise Here!
Do you have a hummingbird related product, destination, tours, classes, business or anything related to hummingbirds......... contact us about advertising in our Newsletters.
---

Suggestions? Ideas?.......... We would love to hear your thoughts about our future e-zines. Please Contact Us with your input.

Have an enjoyable Spring!

I saw a hummingbird today..........


Sweetness and Joy is on the way!

See you soon,

Jim & Ruth

The Hummingbird Guide "Home Page"