Nectar Protector Ant Moat
FTC Disclosure:  If you make a purchase via a link on this site, We may receive a small commission on the transaction - at no added cost to you. Thank you!
Nectar Protector Red
SE611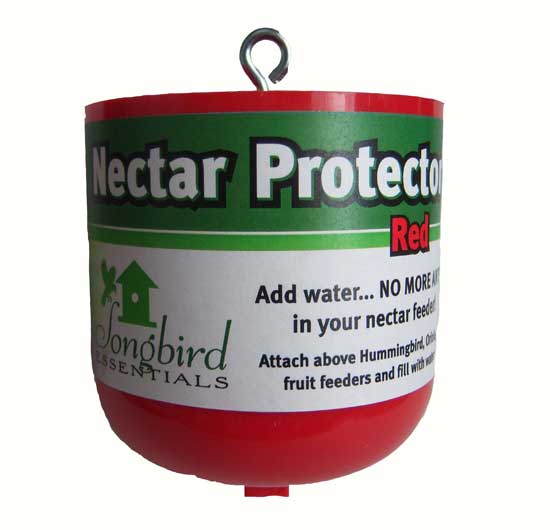 Nectar Protector Red.
How it Works:
Hang the "Nectar Protector" (Ant Moat) where you would normally hang your hummingbird feeder.

Hang your feeder from the bottom of the "Nectar Protector".

Fill the "Nectar Protector" with water.
Now crawling insects, especially ants since they are attracted to sugar, cannot get to your feeder because Ants Can't Swim!
Features:
This ant deterrent holds 300% more than the next largest competitor.

Easy to clean concave bowl.

Less maintenance as it holds 3 times more!

Strong - holds even the largest feeders!

Red - attracts hummingbirds.


"S-Hook" included to hang your feeder.
---
Price: $8.99
See Customer Reviews
Fast Shipping!

Most orders leave our warehouse within 1 to 2 business days!

---
CUSTOMER REVIEWS:
Maureen I. on August 10, 2021 in Winston Salem, NC
I received the ant moat after just a few days and it worked like a champ! A steady stream of ants had been marching down the chain that holds the hummingbird feeder and they were crawling all over and into it. Sometimes the birds would poke at the ants, but they kept coming. As soon as I put the moat out they marched down the chain and then turned around and marched back up. After 3 days--no more ants.
Thank you!
---
By Sue H. on August 11, 2020 in Pittsburgh, PA
I received my Ant Motes from "The Hummingbird Guide" website and I'm happy to say I'm no longer being bitten by ants or having them crawl on me as as I clean and refill my feeders!
I tried other methods of coating the poles the feeders hang on but nothing worked for long.
I should have ordered the ant motes sooner- a great long term solution to ants.
Thanks for a great hummingbird supply and information website!
---
By Janice H. on August 13, 2020 in Raphine, Virginia:
The large ant moats we just bought are the only products that have eliminated ants in our feeders.  And because they are so large, the water takes a long time to evaporate.  We added two new Hummzingers also since we already have four and love them for their easy cleanup, filling, and bird watching.  The hummers love them too. 

---
By Jean M. on August 11, 2020 in Ellisville, Montana
Thank you for your notice about ants, I ordered the ant deterrents and they really work.
I enjoy your newsletters and information about the hummingbirds I love.
---
By Jim M. on July 12, 2015 in Penfield, New York:

I am very pleased with the product. It is doing the intended job very well. Your service was great. Your communication regarding your receipt,processing and shipping of my order was very timely. Overall, it was a great experience.

Thanks and best regards,

---
By Charles D. on March 2, 2016 in New Derry, Pennsylvania:

Everything arrived quickly. I noticed the quality of the ant moats as compared to those found in stores. Also, anxious to use the hummingbird nesting helper for the first time.

Have been following the Spring Migration Map for years. Much appreciated.

In Western Pennsylvania we are in the country and see a  lot of different birds, but the hummers are special.

Will order again in the future.

---
Red Nectar Protector
---