Nectar Aid
Self Measuring Pitcher

Nectar Aid Self Measuring Pitcher. The fastest and easiest way to mix and pour nectar for Hummingbirds and Orioles.
I say....
"Once you use it, you'll NEVER want to mix nectar again without it!"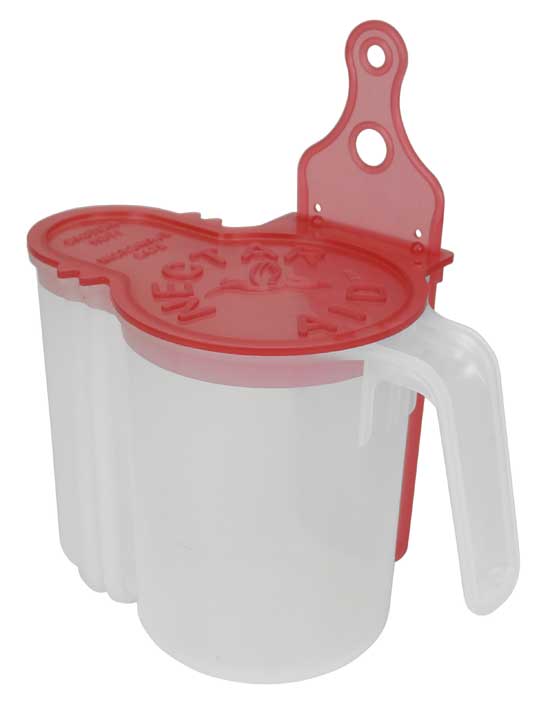 Nectar Aid Self Measuring Pitcher Features:


Nectar Aid is an exclusive proportional nectar mixing system that consistently mixes nectar at a 4:1 ratio. Add the same levels of sugar and water, then mix.
mixing pitcher

measuring cup

microwave container

mixing spoon

funnel

storage container. 

Pitcher holds 52 ounces, or 1.6 quarts.
---
---
---
Price: $19.99

See Customer Reviews
Fast Shipping!

Most orders leave our warehouse within 1 to 2 business days!

---
Customer Reviews:
---
By Barabara H. on May 24, 2016:

Used my new hummingbird nectar container and I can only say it's the best thing ever! Wish I had known about it long ago.  So easy to use and nothing to clean up afterwards.  Thanks!

---
Connie S. on May 8, 2016:

Excellent service and I love my new feeders and especially the mixing container!
Thank you!
Connie

---
By Carol B. in Palestine, Texas on April 28, 2015:

The nectar measuring mixing  pitcher is the BEST!!!!
My little hummers are here & I do think the little fat one was here last year!
They make me so happy!
Thank you for your newsletter.
---
Stephanie G. on April 18, 2016:

I really like using the nectar pitcher! It works! Very easy to use!
Stephanie

---
Ann B. on February 19, 2016:

Everything looks wonderful! Can't wait to start using it to attract the hummers!

---
Anne W. on January 23, 2016:
Great great customer service. I was missing one item, I notified the company, received an email right back saying it was being taken care of and it was completely corrected with the missing item in my hands within 3 days. Wonderful.

I love the feeders. I bought 3, two of which are the solar ones. They are lovely. And the mixer is genius.  How did I ever manage this before. It is truly a must have.

I'm so glad I found you on the Internet.
---
From Leslie P. in Monro, North Carolina on June 10, 2015:

Thank you for following up on the hummingbird feed mixer I purchased from your store.  It arrived in a timely manner and in good condition.  It functions great, and makes it so much easier to fill my two feeders frequently as they're small and need replenishing often in our current 90 degree weather!

Thanks for the great product and have a great summer!


---
Hummingbird Guide

›
Accessories
› Humm Blossom Accessory Kit
---