FTC Disclosure:  If you make a purchase via a link on this site, We may receive a small commission on the transaction - at no added cost to you. Thank you!
Hummingbird Haven Feeder
SE996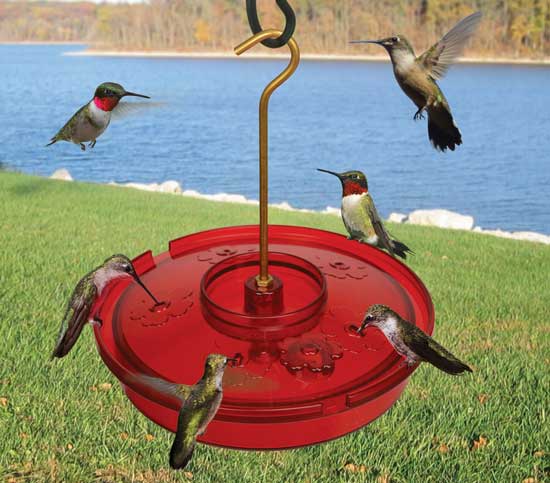 Hummingbird Haven Feeder Features:

The Songbird Essentials Hummingbird Haven is the easiest to clean feeder that you will ever own.




360 degree Hummingbird viewing.




Top fill port for easy refilling, without having to remove the lid.




Unique raised perch features two rain gutters.




Large built-in ant moat.




Holds 16 oz. of Nectar.




Bright red feeder color attracts Hummingbirds.
---
---
Price: $24.99

Fast Shipping!

Most orders leave our warehouse within 1 to 2 business days!

---
Customer Reviews:
By Lily W. on August 28, 2021:
I have had the feeder about a week now. I purchased it because my other feeders would just drip and all the nectar would end up on the ground with very little going to the hummers. Mostly I fed ants. This feeder has solved that problem beautifully.

Thank you for a good product.
Lily

---
By Clayton H. on September 8, 2020:
I absolutely love my new hummingbird feeder. It is truly wonderful that the birds have a place to sit. Much better viewing!
Clayton - Austin, TX

---
By Joan B. on April 1, 2020:
Never knew we had so many hummingbirds in our neighborhood until I took down the old feeder and put up this one.  My neighbor said we should have an air traffic controller to manage them all.  They love this feeder!
---
By Sandy M. on February 16, 2017:

These are the best quality hummingbird feeders I have ever seen!!
Thank you for an excellent product. We love these hummingbird feeders. They are well made, a great design, easy to fill and its super that they are made in the USA !!  No more cheap, thin, fiddly plastic feeders. We expect many more hummingbirds this summer because of these feeders. I am buying more of your feeders to give as Easter gifts for our grandchildren.

Thank you so much,
Sandy McKelvie

---
By Tina F. on May 31, 2015:

I love the new 360 degree feeders and the brushes. The new feeders are so easy to clean and the brushes help tremendously. Thanks for having great products. My hummingbirds thank you, too.
---
By Pat P. on May 26, 2015:

The Hummingbird Haven Tray Feeder is wonderful. I love how easy it is to fill and clean.

---