Hi
Welcome to
the Hummingbird Guide
FAQ's Newsletter!

Issue #3....
Hummingbirds Fighting!
What To Do!

Enjoy a 10% Discount on Everything in Our Store. Use Promo Code: thehummer.
---
"The Hummer" Newsletter brings you the latest additions to The Hummingbird Guide website, many useful tips to learn more about them, how to attract them, how to keep them at your feeders, tips and reviews of the latest hummingbird products, discount promotions from our store, festivals, birding tours, and anything interesting relating to hummingbirds that we can find for you.

If you like this e-zine, please do a friend and me a big favor and "forward it".

If a friend did forward this to you and if you like what you read, please subscribe by visiting... Our Sign-Up Page.
---
NOTE: The Newsletter navigation links below "In this Issue:" will not work on a phone but will work on a desktop. Sorry, there is nothing we can do about this. They are issues with Android & iPhone Mail Apps. You will have to scroll down to read the Newsletter.

The other links within the Newsletter will work on a phone.
---
FAQs Issue #3, August 29, 2020.
In this Issue:
1) Fighting Problems.
2) Our Hummingbird Starter Kit.
3) Other Problem Solving Products!
4) Our Hummingbird Migration Tracker App.
5) Shop for Everything Hummingbirds....Special E-zine subscribers discount.
6) Our Revised Pinterest Page.
7) Link on your mobile device.
8) Hummingbird Guide Social Network.
9) Contact Us with your suggestions for future E-zines

---
Message from Ruth & Jim:
This is a very concerning time in our society. Our hearts go out to everyone now being impacted by the COVID-19 pandemic.
In Native American Culture, hummingbirds are seen as Healers and Messangers of Love,
Good Luck and Joy.
They also symbolize courage and resilience because of their long migration.

We hope your hummingbirds bring some comfort and distraction from these trying times.
---
Hummingbirds Fighting
can be an unwelcomed sight.
Hummingbirds fighting is a natural occurrence in nature. It is really more of a sparing contest between males which usually does not result with injury.
Hummingbirds fight to defend their food supply and the food supply of their offspring.
There are some species of hummingbirds that fight other species for dominance. One example is the Rufous species who will fend off the Anna's, Broad-tailed, Calliope and Black-chinned hummingbirds. They can also use this ability to fend off some other types of birds, such as blue jays who are much larger than them.
Hummingbirds are aggressive because they are territorial.
Male hummingbirds are very aggressive when claiming a new territory.
Keep in mind that this is essential for the survival of the female and her young. The male claims a territory and breeds with several females.
How To Prevent Some of the Fighting
First, remember that these birds have the fastest metabolism of any bird. Nectar is the end result of all fighting. If you provide only one feeder you will have trouble with several birds fighting over the feeder. Simply put out more feeders. Learn all about how many you may need and where to set them here.
Why Do More Feeders Work!
Place several feeders out of site of each other because male hummingbirds are territorial and will be on guard fending others away.
Try hanging several feeders around the perimeter of your house.
The hummingbirds in front of your house will guard the feeders that are visible in that location and the hummingbirds in back of your house will guard those feeders.
Another Benefit of Adding More Feeders!
WHO WANTS MORE HUMMINGBIRDS!
By adding more feeders you will attract more Hummers!
---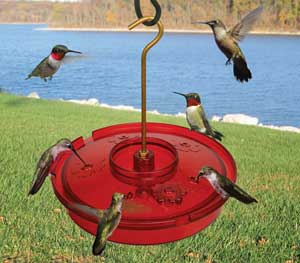 ---
Learn More about Hummingbirds Fighting!

---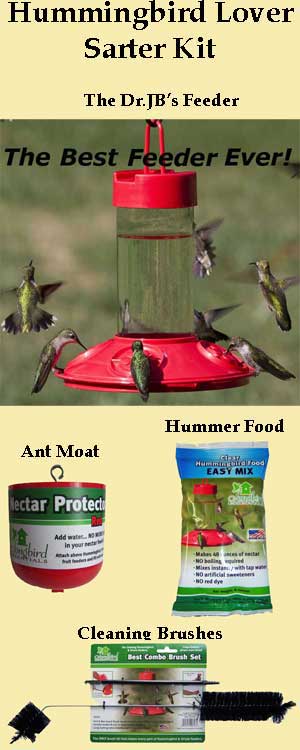 ---
We have many more products to answer your
"Frequently Asked Questions"!

---
---
The Hummingbird Tracker App
Follow the 2020 Migration
From Your Smartphone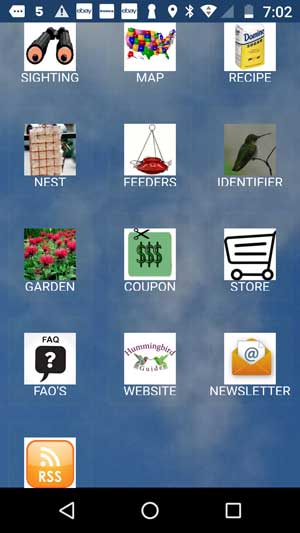 The Hummingbird Tracker AppNew Features: Best Feeders, Hummingbird Identifier, Hummingbird Garden Design, FAQ's and MORE!

---
Note: If you have decided to hang feeders, feeding hummingbirds is a commitment and there are 2 VERY IMPORTANT RULES you must follow:

Changing Nectar: You must be vigilant about changing the nectar regularly (every 3 to 5 days) to keep it from spoiling.
See our filling instructions here.

Cleaning Feeders: You must keep your feeders clean from bacteria which can be harmful to hummingbirds.
See our cleaning instructions here.
Our New "Feeder Fresh Nectar Defender"!
Keeps Your Nectar Fresh For 2 Weeks!
No Need to Change Your Nectar
Every 3 Days!

---

---
---
The Hummingbird Guide Store!
Our Website is Now at
The Highest Level of Security!

We have worked hard to bring our website up to the highest level of security.
You will notice "https" in our URL (web address) in your address bar of your browser and the "Padlock" icon indicating that our website meets the standards for the highest level of security.
You can shop with confidence that our store is secure and any page that you visit on our site is secure!
Please visit Our Store. There is a large selection of decorative, unique, basic hummingbird feeders along with many accessories such as the ant moats and brushes. Also, we have many beautiful "Woodstock" wind chimes available, Gifts and Birdbaths.
Use promo code: "thehummer" for a Special 10% Discount to our newsletter subscribers which you can use on your whole order in our store.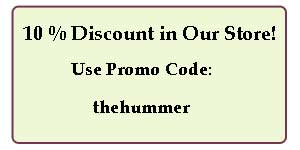 ---

---
Let Others Know About
Your "Favorite" or "Not-so-Favorite"
Hummingbird Product!
Submit your personal review here.

---
See Our Revised Pinterest Page!
Follow us on Pinterest and Pin Your Favorites to Your Pinterest Board.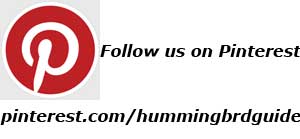 ---
Our Website is "Mobile Friendly"!
Add our website to the "Homescreen" of your Smartphone to have quick and easy access to follow the Hummingbird Migration as we update your sightings.
---
Visit Our Social Network!
If you haven't already, you just might like to become a fan!

It's "A-buzz" with activity and has been growing by leaps and bounds!
We now have over 12,500 Facebook followers.
We have many new visitor photos, videos and conversations.
We would love to see your photos and videos, come join the fun!

View some videos on our YouTube channel.

You Can Follow Us on

Do you like to TWEET!


---
Advertise Here!
Do you have a hummingbird related product, destination, tours, classes, business or anything related to hummingbirds......... contact us about advertising in our Newsletters.
---
Suggestions? Ideas?..........
We would love to hear your thoughts about our future e-zines.
Please Contact Us with your input.
Enjoy the rest of the Spring and Summer!
See you soon,
Jim & Ruth
The Hummingbird Guide "Home Page"

I saw a hummingbird today..........
Sweetness and Joy is on the way!