Find Us Here!

TWEET this Page!

---
Subscribe to
"The Hummer"
Newsletter

Don't worry your email address is totally secure.
I promise to use it only to send you "The Hummer" Newsletter.

Recommended
Accessories
Have Hummingbirds Nest In Your Yard!

Hang this nesting material in your yard
Watch for a hummingbird taking the nest material
Follow her to the nest
Enjoy the observations & photo opportunities of the babies!

More Info
Now You Can Watch This On Your TV!

Hang the HD Spy Cam near the nest
Hook the cable to your TV
Watch the Babies right on your TV!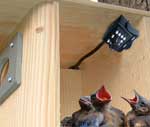 More Info
Want to Refill Your Feeders Less Often?

Hang the Hummer Helmet over your feeders
Prolongs the life of the nectar
Keeps squirrels from your feeders!

More Info
Are Ants Feasting on Your Feeders?

Hang the Ant Moat over your feeders
Fill with water
Voila! Ants can't swim!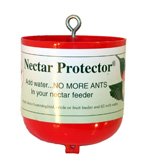 More Info
Prevent Catastrophes at Your Window Feeders?

Stick a Window Decal on your window
You can see through
Hummers see it as a barrier!

More Info
Turn Your Feeder Into A Window Feeder?

Stick the suction cup hanger on a window
Hang your feeder of choice
You now have a Hummingbird Window Feeder!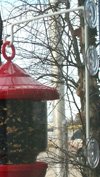 More Info
Ready To Use Nectar!

No mixing, ready to use
No Dyes or Additives
Most closely simulates nectar from flowers!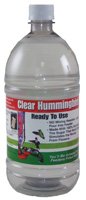 More Info