TEMPORARILY, WE ARE NOT TAKING ORDERS ON ANY PRODUCTS SOLD IN OUR STORE.

We are so sorry but due to the current pandemic crises, our distributor has stopped distribution and closed down temporarily. We look forward to re-opening our store as soon as the situation permits. We will post a big "OPEN" sign when shopping is resumed.
Stay safe and thank you for choosing The Hummingbird Guide
FLOWER/PLANT ORDERS ARE PROCESSING THROUGH OUR PARTNER, DIRECT GARDENING.
WE WILL UPDATE THIS WHEN OUR STORE IS RE-OPENED!
STAY TUNED,...... THIS IS JUST A TEMPORARY PAUSE!
Wind Chimes

Here is a selection of wind chimes available in wood, metal and capiz.

Free Shipping Promotion!
FREE Shipping

on orders over $75.00

Use Promo Code:

freeship
We were impressed with the famous "Woodstock Chimes" and enthusiastically included them in our store.

These chimes were created by Gary Kvistel, Grammy Award winning musician who performs around the world with the renowned percussion group Nexus.
These high quality chimes are precision tuned by Gary Kvistel himself.
These chimes are tuned beautiful to melodies and scales from aroung the world.
These chimes have become the world's favorite wind chimes.
They are the wind chimes that people ask for by name.

Our large selection of Woodstock Brand Chimes have sound bytes, click the "Woodstock" brands to hear samples of their music. NOTE: Only "Woodstock" brands have sound bytes.
Shop Our Wind Chimes Here:
Quick Links

---
Bamboo Wind Chimes
---
---
Flat
Hummingbird
Chime
CH187H

Price $33.99
---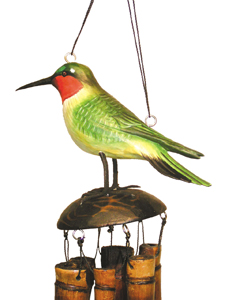 Ruby Throated
Chime
CH175RT

Price $39.99
---
---

Woodstock
Aloha Natural
Chime
WOODACN
Price: $39.99
---

Woodstock
Aloha Purple
Chime
WOODACP
Price: $39.99
---
---
---

Woodstock
Gilbert Gooney
Chime
WOODCGB436
Price: $39.99
---
Woodstock
Black Ring
Chime
WOODC252
Price: $22.99
---
---
---
Capiz Wind Chimes
---
---
Metal Wind Chimes
---

Woodstock
Anniversary
Chime
WOODACS
Price: $59.99
---

Woodstock
Arts & Crafts
Chime
WOODACCBR
Price: $39.99
---
---
---
---
---
---
---
Wind Bell Chimes
---
---
Wind Chimes
---