Hi
Happy Mothers Day!
Hope Your Hummingbirds are Home br> for Mothers Day!

Enjoy a 10% Discount on Everything in Our Store.
---
"The Hummer" Newsletter brings you the latest additions to The Hummingbird Guide website, many useful tips to learn more about them, how to attract them, how to keep them at your feeders, tips and reviews of the latest hummingbird products, discount promotions from our store, festivals, birding tours, and anything interesting relating to hummingbirds that we can find for you.

If you like this e-zine, please do a friend and me a big favor and "forward it".

If a friend did forward this to you and if you like what you read, please subscribe by visiting... Our Sign-Up Page.
---
Issue #018, April 30, 2016.
In this Issue:
1) Mothers Day Gift Ideas.
2) Live Streaming BirdCam.
3) Our Featured Product Line.
4) The Hummingbird Nest.
5) Hummingbird Migration 2016 Update
6) Link on your mobile device.
7) Hummingbird Guide Social Network.
8) Shop for Everything Hummingbirds....Special E-zine subscribers discount.
9) Contact Us with your suggestions for future E-zines

---
Hummingbird Products Make
Great Mothers Day Gifts!
Hummingbird Gifts Can be Cherished for a Lifetime!
We have a selection of fine "Hummingbird Gifts in our store."
Beautiful Stained Glass Items!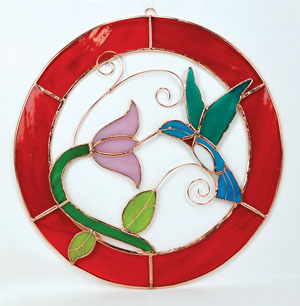 Hummingbird Stained Glass Window Panel
Does Your Mom Love Hummingbirds?
OR
What a Great Day to Introduce Her to
Our Hummingbird Friends!
If she already is a host to our little friends, we have a great selection of beautiful decorative feeders, accessories, ant moats to rid the pesky invaders, brushes to make the feeder cleaning chores easier, hummingbirds at a birdbath is fun to watch!
How about an exquisite unique Wind Chime!
We feature many Woodstock Wind Chimes hand tuned by Gary Kvistel, a Grammy Award winning musician.
---
Soon To Be Live!
Our Live Streaming BirdCam!
Go Inside a Tree Swallow Nest Box!
Last year we successfully attracted a pair of Chickadees to our BirdCam nest box and we witnessed one of those "Wonders of Nature"!
We watched as they claimed the box, built a nest, laid the eggs, watched them hatch and grow until they fledged the nest!
You can see a condensed video that I put together of the whole time period here.
We will soon be live again inside a Tree Swallow nest box.
They just started to claim the nest box which holds our streaming BirdCam inside.
The temperatures have been below average but they should start their nest building chores any day now when the weather warms up!
Check the page often to witness the progression of this entertaining spectable Here!
---
Our Featured Hummingbird Product Line!
The Aspects HummZinger and HummBlossom Hummingbird Products!
Aspects has been a supplier of quality hummingbird feeders and products for many years!
What I like:
Very Versatile Selection!
The Smaller Size of the HummBlossom Line is ideal for establishing multiple feeding zones.
The Red Cover Attracts Hummingbirds.
The Clear Dish Allows for a Visual Nectar Level.
The HummBlossom Accessory Kit Protects from Rain and Ants.
The Aspects HummZinger and Window Hummingbird Feeders:
The New HummBlossom 4 OZ. Hummingbird Feeders:
---
The Hummingbird Nest!
Can You Imagine One!
Hummingbird nests are truly incredible!
They can be as tiny as a walnut shell but marvelously constructed.
There are many interesting facts about them, one being that they have elastic sides that stretch as the babies grow!
Vist the Hummingbird Nest Page to Learn More!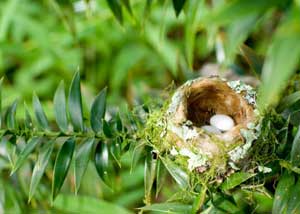 ---
The 2016 Hummingbird Migration Update!
We have been receiving more and more sightings each day.
Our visitors have spotted our friends up into New England in the East, into Wisconsin, Michigan, Minnesota in the Central US and all the way up the West Coast.
Just a Reminder: New This Year, You can submit your sightings to our "Month by Month List" of sightings and our "Interactive Migration Map"!
Please post your sightings to help everyone following the migration.
Give Them a Helping Hand When They Arrive!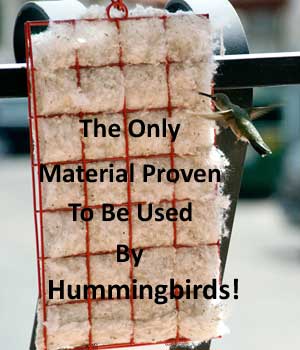 Hummer Helper Nesting Material Kit
---
Our Website is now "Mobile Friendly"!
Add our website to the "Homescreen" of your Smartphone to have quick and easy access to follow the Hummingbird Migration as we update your sightings.
---
Visit Our Social Network!
If you haven't already, you just might like to become a fan!

It's "A-buzz" with activity and has been growing by leaps and bounds!
We now have over 6300 fans, over 400 more since our last newsletter.
We have many new visitor photos, videos and conversations.
We would love to see your photos and videos, come join the fun!

Just this week we added a YouTube channel.

You Can Follow Us on

Do you like to TWEET!

Join Us on

.

.
---



The Hummingbird Guide Store!

Please visit Our Store. There is a large selection of decorative, unique, basic hummingbird feeders along with many accessories such as the ant moats and brushes. Also, we have many beautiful "Woodstock" wind chimes available, Gifts and Birdbaths.

Use promo code: "thehummer" for a Special 10% Discount to our newsletter subscribers which you can use on your whole order in our store.

---
Advertise Here!
Do you have a hummingbird related product, destination, tours, classes, business or anything related to hummingbirds......... contact us about advertising in our Newsletters.
---

Suggestions? Ideas?.......... We would love to hear your thoughts about our future e-zines. Please Contact Us with your input.

Enjoy the rest of the Summer!

I saw a hummingbird today..........


Sweetness and Joy is on the way!

See you soon,

Jim & Ruth

The Hummingbird Guide "Home Page"