HummBlossom 4oz
 Hummingbird Feeders
Rose & Plum

ASPECTS433
ASPECTS434
The HummBlossom 4oz Hummingbird Feeders Features:

These feeders are the ideal size for placing a multitude of feeders so our territorial hummingbird friends can each pick their own Blossom to feed from.
Available in two beautiful colors, rose and plum, the HummBlossom feeders are as pretty as they are functional.
The feeder includes a HighView perch that invites hummingbirds to rest comfortably as they drink from any of the four feeding ports while also offering an unobstructed view of the birds.
The feeding ports are raised to keep rain from reaching the nectar and the feeder can accommodate Nectar Guard tips (sold separately) to prevent bees, wasps, and other flying insects from contaminating the nectar.
Constructed of unbreakable polycarbonate, made in the USA, and backed with their Lifetime Guarantee.
Available in Rose Color (ASPECTS433):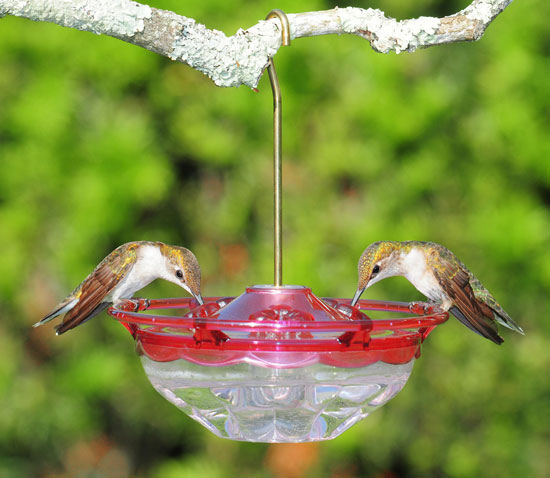 HummBlossom Rose Color Tray Hummingbird Feeder
Price: $19.99
Available in Plum Color (ASPECTS434):
HummBlossom Plum Color Tray Hummingbird Feeder
Price: $19.99

---
Humm Blossom Accessory Kit:

Protect your feeder from the rain and the ants with the accessory kit containing a dome and an ant moat.
Also included is a stake to pole mount the feeder in your garden, plant basket or flower pot.

Price: $25.99

Fast Shipping!

Most orders leave our warehouse within 1 to 2 business days!

---