Hummingbird Feeder Bats
Hummingbird Feeder Bats can be a problem!
In the Southwest, (which includes: Southern Arizona, Southwestern New Mexico, parts of Texas, Southern California and Mexico), bats enjoy feeding at hummingbird feeders.
Sherlock Holmes Isn't Needed Here
How can you tell if bats are raiding your hummingbird feeders?
It's easy because a bat can empty your feeder overnight.
It would take hummingbirds several days to empty the same feeder.
Bats are nocturnal. This is why these creatures have such a spooky reputation but we need not fear them except in regard to emptying our feeders.
If the feeder you filled in the evening is empty in the morning, the problem is bats.
Most species of bats eat strickly insects.
In the southwest there are several species of nectar eating bats.

These include:
The Lesser Long-nosed bat
The Mexican Long-tongued bat
Opposites Attract?
Hummingbirds and bats are opposites in many ways but both are attracted to nectar.
Hummingbirds have no sense of smell but are attracted to bright colors in feeders.
Certain bats have an acute sense of smell tuned into the smell of sucrose.
Up With the Chickens?
One fix to a problem of bats draining your hummingbird feeders is to take your feeders down at night and put them back up in the morning.
Hopefully, you're an early riser because hummingbirds start to feed on nectar about 20 minutes before sunrise.
So you need to get up that early to replace your feeders in the morning.
Ah! Yes Bee Guards!!
You can use hummingbird feeders with bee guards or attach bee guards to your feeders and sleep in.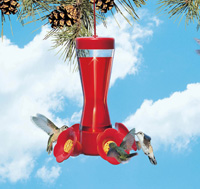 Purchase Feeder with Bee Guards
It's Only Natural
All of nature is interrelated, so we do not want to destroy the bats.
They are harmless to humans and beneficial to the environment.
Like hummingbirds, bats also pollinate flowers and eat thousands of insects each day.
Return from "Hummingbird Feeder Bats" to "Tips/FAQ"