Hummingbird Blog
The Hummingbird Blog is your way of keeping up to date with new additions to the Hummingbird-guide Web site.
It will let you know when

any new pages are added, or when additions are made to old pages.

It will also let you know when

we send out a new newsletter (in case you don't like to give your e-mail address, or if your ISP tends to over-filter causing you to miss an issue).

You will be the first to hear

about our upcoming contests offering special prizes.
To subscribe to our Hummingbird blog
(no e-mail necessary), right-click on the orange RSS button (see upper left above the navigation bar) and then paste the URL into your RSS reader.
Or click on the Google, My Yahoo!, or Bloglines button if you keep a personalized home page there (also in the upper left).
If you are not sure what RSS and blogging is all about, click on the ? (question mark) at the top of the RSS block.
Once you start, you will be amazed at how RSS brings your world to you.
Enjoy!
Lynn Lambert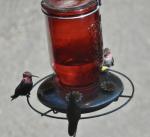 Visiting in Annett's Mono Village, Bridgeport, CA for the summer. We put out feeders and have had so many hummers. My best guess is Anna's Hummingbirds