The Hummingbird Flower Garden
"all the resources to succeed right here"

The first steps to plan your garden.
"It was not a hummingbird flower garden specifically planted.............
but "luck" that brought my first hummingbird to our garden."

With curiosity, I watched a hummingbird zoom from bloom to bloom not yet understanding how simple attracting more birds would soon become.
The first step to a garden is finding the best plants that attract hummingbirds.

Here, you will find a list of annuals, perennials, bushes/shrubs, trees and vines that will attract hummingbirds.

You will also find the best plants that thrive in your planting zone with our hummingbird flower garden planting zones page. We compiled a list of plants preferred by hummingbirds and sorted them for you by zone.
Use the USDA Zone Map and compare the Minimum temperatures (the lowest winter temperatures) of your area to get the zone of your location.
After you have picked out your plants, you can visit our garden plans page to learn how to plan your hummingbird flower garden. Here you will find design advice and planning tips to consider for attracting hummingbirds to your garden.
---
Would you like to attract hummingbirds
but have no space for a garden?

Perhaps you are a back porch gardener who only likes to set out a few pots or hanging baskets of flowers.
Here is an example of one of our hanging baskets planted with impatiens and a planter hummingbird feeder. This works well for those of you who are apartment dwellers with no space to plant a hummingbird flower garden. Some will use a planter hook to hang outside a door or window. If you have a balcony or deck you might hang it from a soffit and enjoy your hummingbird visitors while relaxing on your outdoor furniture.

Landscape with a Hummingbird Vine.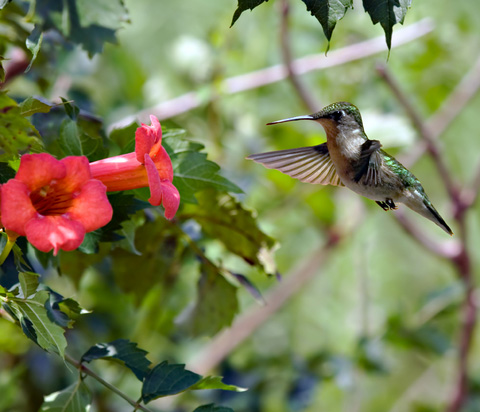 Hummingbird vines are especially prolific and enticing to hummingbirds. They can be a beautiful addition to your landscape.
Visit our hummingbird vine page. We offer some tips on how to plant and care for a hummingbird vine.

If you are looking to buy hummingbird flowers online for your garden may we suggest Direct Gardening.
For A Great Selection of

Hummingbird Perennials visit our friends at
Direct Gardening to see a large selection of plants that will attract hummingbirds at great prices since you are "Buying Direct".
Variety is the spice of life!
There are hundreds of varieties of hummingbird plants in North America alone depending on your planting zone.

Annuals that attract hummingbirds:

Perennials that attract hummingbirds:

Bushes/Shrubs that attract hummingbirds:

Vines that attract hummingbirds: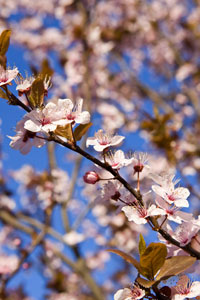 Trees that attract hummingbirds:
Crabapple tree
Hawthorne tree
Horse Chestnut tree
Tulip tree
Red Buckeye tree
What a marvel it is for me today to watch hummingbirds pollinate my flowers by dipping their bills into each bloom for the nectar.
The pollen clings to their bills and gorgeous iridescent feathers.
As the hummingbirds fly from flower to flower, pollen is transferred.
The pollen fertilizes the flowers and everyone is happy.
The hummingbird who enjoyed a good meal.
The flowers who's survival is ensured.
And you the proud owner of a beautiful garden with numerous birds.
As pollinators, hummingbirds benefit our natural environment. When planting a hummingbird flower garden, never use chemical fertilizers or pesticides. Doing so can harm hummingbirds and the good earth. 
HAPPY GARDENING!
---
Hummingbird Guide
› Flower Garden
---