The Decorative Hummingbird Feeder

A decorative hummingbird feeder is often made of blown glass sometimes etched or hand painted complimented with copper or wood.
These have come along way from the first feeder that was made from a test tube by a scientist dabbling in his laboratory.
The first feeder created by the scientist was actually a gift to his wife, who loved to observe hummingbirds.
See our selection of Hummingbird Decorative Feeders.
My Schrodt Etched Hummingbird Feeder Review.

This love of hummingbirds has seen a tremendous growth of popularity through the years.
The popularity of observing hummingbirds has inspired the manufacturing of some feeders lavished with materials resulting in these decorative feeders.
Of course they are usually more expensive than a basic plastic feeder.
However, the investment can supply an elegant piece of craftsmanship for your hummingbird viewing pleasure.
These will be more durable with a longer life expectancy.
It seems most beginner hummingbird observers start with simple plastic feeders.
Just as we did years ago.
Details of The Fairy Dust Hummingbird Feeder.

After a few failed or deteriorated inexpensive feeders, we look for more durable models.
As long as we are willing to make a larger investment, we search for more elegant styles.

This "Violet Meadow Feeder" is hand painted with a copper painted base.
A Decorative Feeder hanging from a sheppard staff in our flower garden will put a finishing compliment to our hard work.
Here is an unusual but very attractive feeder.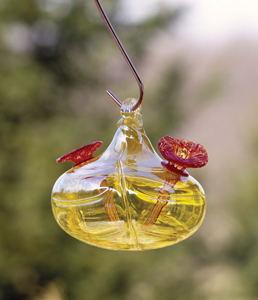 This popular hand blown glass style is available in different colors,
also made in an antique glass look.
Today the tiny hummingbird is loved in a giant way!
With such high demand, new feeder styles are constantly being developed.
Whatever your taste, there is a decorative hummingbird feeder for you.
We enjoy giving beautiful feeders as gifts to family and friends.
After all, everyone loves hummingbirds!
---
Hummingbird Guide

›
Feeder Choices
› Decorative Feeder Examples
---