FTC Disclosure:  If you make a purchase via a link on this site, We may receive a small commission on the transaction - at no added cost to you. Thank you!
How to Plant a
 Hummingbird Flower Garden
"all the resources to succeed right here"

How to plant a hummingbird flower garden with hummingbird attracting perennials, bushes, shrubs, vines and annuals in 10 easy steps.
Your choice of plants will depend on your space, layout and growing season.

10 STEPS TO PLANT
A HUMMINGBIRD GARDEN

STEP 1:
Pick a spot that is viewable from a window, porch, patio or deck for easy, accessible and enjoyable viewing.
STEP 2:
Plan the size of the garden that is manageable with the weeding and maintenance required to keep your garden flourishing. The size will also determine if there will be room for larger shrubs or vines that take more space.
STEP 3:
Find plants, shrubs, flowers and vines that will grow in your planting zone that have a high nectar supply to attract hummingbirds.
STEP 4:
Choose perennial plants, flowers, shrubs and vines to avoid the chore of planting new plants every year.
STEP 5:
Pick plants and flowers that bloom at different times of the growing season to have a nectar rich food source available all season long.
STEP 6:
Make a list of the chosen plants, shrubs, flowers and vines with details of blooming times and height of each.
STEP 7:
Plan the placement of the plants and flowers with the smaller plants around the edge of the garden progressing to the largest or tallest plants in the center.
STEP 8:
Acquire the needed accessories such as trestles and stakes for support, organic fertilizer, borders such as rocks or mini fences.
STEP 9:
Never use insecticides which can be harmful, even deadly, to hummingbirds.
STEP 10:
Hang an attractive or decorative hummingbird feeder in the garden and enjoy!
Planting Resources:
You will also find the best plants that thrive in your planting zone with our hummingbird flower garden PLANTING ZONES page.
We compiled a list of plants preferred by hummingbirds and sorted them for you by zone. Use the USDA Zone Map and compare the Minimum temperatures (the lowest winter temperatures) of your area to get the zone of your location.
We made it very simple with our Zip Code Hardiness Zone Feature for your area. Simply insert your Zip Code and your planting zone will show.
After you have picked out your plants, you can visit our HUMMINGBIRD GARDEN PLANS page to learn how to plan your hummingbird flower garden.
Here you will find design advice and planning tips to consider for attracting hummingbirds to your garden.
Once you have picked out your plants of choice and completed your plan/design we have an extensive FLOWER SHOP to purchase your chosen plants.
---
Visit Our Flower Shop for a Long List of
Hummingbird Attracting Flowers to Buy!

---
Here, you will find a partial LIST of a few of our favorite annuals, perennials, bushes/shrubs, trees and vines that will attract hummingbirds.
Would you like to attract hummingbirds
but have no space for a garden?

Perhaps you are a back porch gardener who only likes to set out a few pots or hanging baskets of flowers.
Here is our video of a hanging flower basket filled with Impatiens and our flower basket hummingbird feeder.

Below is an example of one of our hanging baskets planted with impatiens and a planter hummingbird feeder. This works well for those of you who are apartment dwellers with no space to plant a hummingbird flower garden.
Some will use a planter hook to hang outside a door or window. If you have a balcony or deck you might hang it from a soffit and enjoy your hummingbird visitors while relaxing on your outdoor furniture.

---
Landscape with a Hummingbird Vine.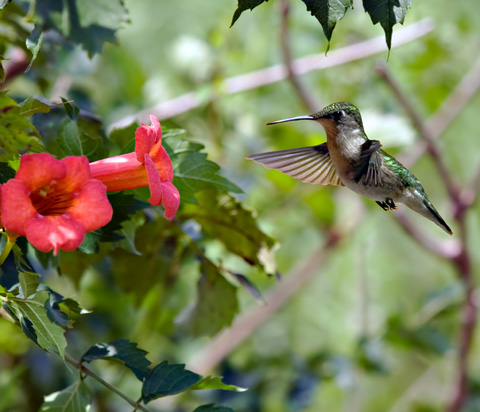 Hummingbird vines are especially prolific and enticing to hummingbirds. They can be a beautiful addition to your landscape.
Visit our hummingbird vine page. We offer some tips on how to plant and care for a hummingbird vine.

---
Planting a Hummingbird Flower Garden can give hours of enjoyment!

---
If you are looking to buy individual hummingbird flowers/plants online for your garden you may want to visit our Flower Shop.                
---
Variety is the spice of life!
There are hundreds of varieties of hummingbird plants in North America alone depending on your planting zone.

Annuals that attract hummingbirds:

Perennials that attract hummingbirds:

Bushes/Shrubs that attract hummingbirds:

Vines that attract hummingbirds:
Visit Our Flower Shop for a Long List of
Hummingbird Attracting Flowers to Buy!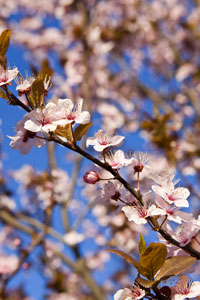 Trees that attract hummingbirds:
Crabapple tree
Hawthorne tree
Horse Chestnut tree
Tulip tree
Red Buckeye tree
What a marvel it is for me today to watch hummingbirds pollinate my flowers by dipping their bills into each bloom for the nectar.
The pollen clings to their bills and gorgeous iridescent feathers.
As the hummingbirds fly from flower to flower, pollen is transferred.
The pollen fertilizes the flowers and everyone is happy.
The hummingbird who enjoyed a good meal.
The flowers who's survival is ensured.
And you the proud owner of a beautiful garden with numerous birds.
As pollinators, hummingbirds benefit our natural environment. When planting a hummingbird flower garden, never use chemical fertilizers or pesticides. Doing so can harm hummingbirds and the good earth. 
HAPPY GARDENING!
---