COVID-19 ALERT: Unfortunately, stock of many items at our distributor is on backorder due to the pandemic and manufacturing issues. Their stock changes from day to day even hour to hour, so it is almost impossible to keep up with it. As a result, you may get a notification that your order is on backorder for a short time. We are very sorry for the inconvenience and thank you for your patience.
Stay safe and thank you for your patience and choosing
The Hummingbird Guide.
Hostas for Hummingbirds

How to Plant
Hostas for hummingbirds are hugely popular. On account of their easy maintenance and shade tolerance, they are often called the perfect perennial. We can absolutely tell you that the hummingbirds certainly agree.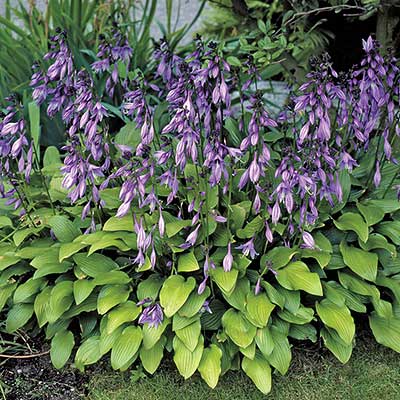 Taking Shade
On hot summer afternoons, my husband and I enjoy sitting in the shade. We find that we are not alone. There is usually a party going on. The hummingbirds are dancing all around our hosta plants enjoying the sweet nectar. These blooms are shade tolerant, so they are just right for the shaded areas of our property. Over the years we have purchased a few attractive and comfortable Adirondack chairs nearby, keeping cool, watching all fast paced hummingbirds. They have a special metabolism that allows them to keep a body temperature that is much higher than ours.
In our opinion, "Hostas for Hummingbirds" are definitely among their favorites!

How to Plant Hostas for Hummingbirds

Select some plants - Did you know that you can buy them direct at
Direct Gardening and save money. You might like to do this because Hostas are so lovely and easy to grow that many of us find that one is not enough. We soon find ourselves with a number of these plants and our hummingbirds don't mind at all.
Choose a location - Remember that these plants are perennials. Even though they can be moved, we find that it is better to plant them in the right spot the first time.
 Sun requirements - Hostas for hummingbirds are shade tolerant. This can mean many things. Like most plants, they require some sun. When planted in a very dark location, you might see little growth. It is better for them to receive some light for a few hours a day or filtered sun throughout the day. We plant some of ours under trees. This gives the hummingbirds a perfect place to perch. Hummingbirds need to perch often, they digest food quickly while perching.
Soil requirements - They thrive in a variety of soils. This is one reason for their enormous popularity. Now, if you really want to maximize growth potential, a rich well drained soil is optimum. We usually just add leaves or compost and our plants grow beautifully.
Water needs -They grow best with adequate moisture. Those of us who plant hostas under trees need to realize that the trees are competing for water in the soil so they may need to be watered in drier spells. I love to water my plants because I then have the chance to view them and the hummingbirds.
Pests - Hostas have few pests. Slugs will poke holes in the leaves of the immature leaves. Once mature, slugs can't work through the thick, tough leaves. Deer and rabbits sometimes eat them. We do not recommend chemical pesticides of any kind. These will absolutely harm the hummingbirds. We use natural products…….. We are surrounded by forests and have plenty of deer. We use the old trick of tying a bag of ivory soap to a stick to keep the deer away.
Plant division - A great feature is that hostas for hummingbirds are maintenance free. It is not necessary to divide them unless you would like to create more plants.

---
Here are some great deals on Hostas for Hummingbirds from our friends at Direct Gardening:

---
Hostas for Hummingbirds are unequalled by any other shade-loving plant because of their great beauty and versatility. Imagine strong, healthy clusters of silver-white and green, wavy leaves a foot or more long. The foliage is just waiting to be cut. Its clusters of lilac, bell-shaped flowers blend beautifully with other flowers and attract hummingbirds. Hosta is a fast, fool-proof grower, will grow in all kinds of soils. Thrives indoors even in a shady north window. Hostas will live for decades if given reasonable care. Hostas are very attractive when planted in triangles, 3 feet apart. Or plant 2-3 triangles where shade is a problem.

BUY Hosta
---
Handful of Hostas

Hostas are one of the best foundation plantings around! We never know which hosta our customers will order. So we never come out even! We can't tell you which varieties you will receive, but your ''handful of hosta'' may include Regal Blue, Golden Green, White Edge, White Scalloped, Green and White, Majestic Standard or another fabulous hosta. Providing regal splendor in sun or shade Hosta is rapidly becoming one of the most popular perennials. It is extremely adaptable and very resistant to diseases and insects. The beautiful foliage provides interest all season long with the handsome flowers an added bonus. Plant in any good garden soil. Will perform at its best in a rich, moist loam. We send our choice of assorted varieties. Field grown plants. Shipped bareroot, spacing of 1 1/2-3', can withstand drought conditions, attracts hummingbirds, fragrant.

BUY Handful of Hosta
---
The Sum and Substance Hosta. Gigantic hosta grows up to 3' tall!

Humongous is the best way to describe this hosta. Huge, chartreuse-green leaves measure up to 18'' long by 14'' wide! Truly a hosta of immense proportions, Sum and Substance forms colossal clumps measuring up to 3' high by 7' wide and can get even bigger if you heavily water and fertilize. Produces lavender flowers on 60'' scapes in July-August. Good slug resistance. Drought resistant. Hummingbird attractant.

BUY Sum & Substance Hosta
---
The White Edge Hosta has emerald green leaves broadly splashed with white edges. It is a hardy perennial that blooms in late summer. The White Edge Hosta grows 15-18'' high and is excellent for border planting. Strong, field-grown plants. Attracts Hummingbirds. Drought resistant.

BUY White Edge Hosta
---
Loyalist Hosta is a new show-stopping Hosta that is one of the best white-centered hosta to arrive on the garden scene in years. Providing regal splendor in the shade hosta is rapidly becoming one of the most popular perennials. The leaf margin is deep green and the leaf center is nearly pure white and does not melt out. Lavender flowers on cream stems appear in mid summer. The Loyalist Hosta is sure to brighten every shady spot in your landscape. Plant in any good garden soil. Will perform at its best in a rich, moist loam. Drought resistant. Attracts hummingbirds. Flower can be used in cut arrangements.

BUY Loyalist Hosta
---
White Feather Hosta. You will be amazed at the creamy white early season foliage from this introduction from Holland. As the season progresses, the foliage turns to light green with creamy highlights. White Feather provides fragrant lavender flowers in mid-summer. It is stunning when planted in groups in shady garden areas or containers. Grows 15-20'' tall and wide.

BUY White Feather Hosta
---
We are proud to bring you this most colorful new hosta! Richland Gold Hosta has sunny yellow leaves that are accented with gradated shades of green. Add a bright spot to any landscape with this hardy golden hosta. The Richland Gold Hosta grows 16'' tall in clumps of neat, spectacular looking foliage. Plant 18-24'' apart. Enjoy lavender flowers in July-August. Drought resistant. Attracts hummingbirds.

BUY Richland Gold Hosta
---
Love hosta, but don't have shade in your yard? Then try Francee Hosta. Francee is a favorite of landscapers because it performs well in almost any condition -- sun or shade! Wonderful white margins contrast with the green heart shaped leaves. Francee Hosta is a medium-sized hosta that grows to 21'' high and 45'' wide. Produces lavender flowers on 2-3' scapes in late summer. Zones 3-9.

BUY Francee Hosta
---
The Empress Wu Hosta. Measures an impressive 4' high and 6' wide with huge leaves that can measure more than 1 1/2' wide and long! This hosta is named in honor of the only female emperor to rule China. A stunning specimen for a shade area! Pale reddish violet flowers in early to mid-summer.

BUY Empress Wu Hosta
---
Just don't Plant your Hostas,....... Plant your Hostas for Hummingbirds!
Visit Our Flower Shop for a Long List of
Hummingbird Attracting Flowers to Buy!

---
Hostas for Hummingbirds
---