FTC Disclosure:  If you make a purchase via a link on this site, We may receive a small commission on the transaction - at no added cost to you. Thank you!
Salvia Sage for Hummingbirds

You may consider planting Salvia Sage for hummingbirds. There are both annual and perennial varieties in many colors and can be another addition to your hummingbird garden. It is the largest genus of the mint family.
As there are many flowers frequented by hummingbirds, let me describe the salvia to help you decide if it is the best flower for your garden.
There are more than 700 species both annual and perennial.

They are lovely spikes of flowers, tubular in shape and range in size from
10 inches to 60 inches tall.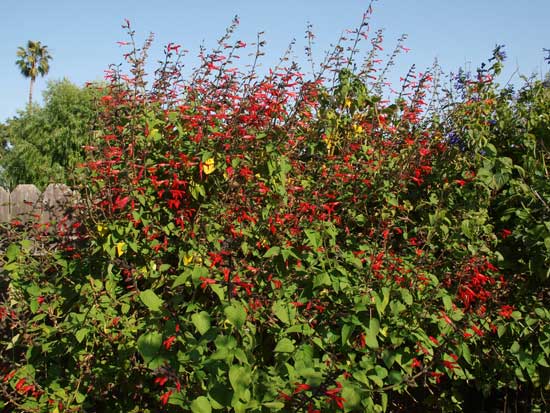 The bright red salvia is best for hummingbirds but we have seen them visiting other colors often such as the purple salvia and mixed salvia.
All Salvia Sage has a high nectar count needed by hummingbirds. So, planting any variety of Salvia Sage for hummingbirds will supply their needed nectar.

---
From Our Flower Shop: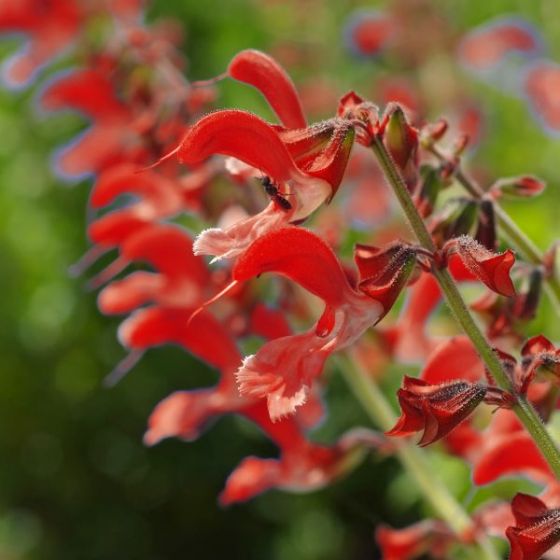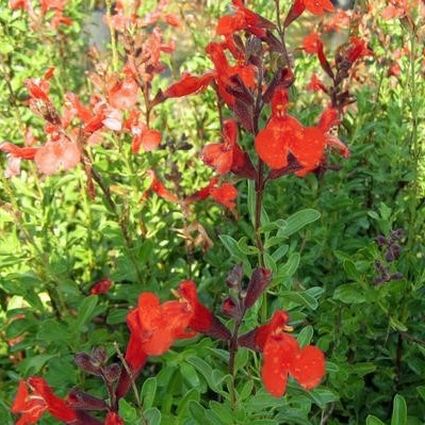 Furmans Red Salvia

Salvia Furman's Red, Salvia greggi 'Furman's Red', is an extremely long blooming selection that is hardy to zone 5.
It is valued for its tightly branched, upright growth habit and profusion of bright red flowers from the beginning of early summer through fall.
The crimson to scarlet flowers is produced in repeated flushes from May through October. Salvia 'Furman's Red' is a woody 2' perennial that looks best if cut back in the spring.
This eye-catching salvia offers an abundance of stunning blooms, over neat crinkly foliage. It is an absolute favorite of hummingbirds.
Culturally undemanding, 'Furman's Red' tolerates a wide range of soils requiring only that they quickly drain. Just a bit of extra water during dry spells encourages more flowers.
'Furman's Red' enjoys warm temperatures and is moderately drought tolerant; mixes well with other beautiful summer flowering perennials.
*Crimson Red Flowers
*Blooms All Season
*Attracts Hummingbirds

BUY Furmans Red Salvia
---
Hummingbirds do not have a sense of smell but are attracted to bright colors especially red.
I chose to plant the red 10" annual as a border around my hummingbird flower garden. I don't usually plant annuals but Salvia is one of my exceptions becoming convinced the first year. No sooner had I planted the beautiful blooms when they were almost immediately visited by my hummingbirds.
Care of Salvia Sage for Hummingbirds

How to grow annual Salvia

Consider timing. Plant after the last frost.
Consider sun requirements: Plant in full sun. (Note: They do make great border plants)
Consider soil requirements: Plant in well-drained soil.
Add mulch or weed regularly.
Think about water requirements: Keep the soil moist.
Disease is generally not a problem with this plant.
How to grow perennial Salvia
Follow directions above for annual Salvia with these exceptions:
Consider location more carefully. Remember that the plants will return year after year.
Consider that these blooms are heavy seeders. You should deadhead the plants by removing the spent flowers. This improves the appearance of your garden. It also prevents plants from spreading to other areas the following year.
Another option is to divide the plants the following spring. This is a matter of choice. If you love these flowers, you might not mind having more of them. Of course, the hummingbirds won't mind at all.

Happy gardening for hummingbirds!!
---
Visit Our Flower Shop for a Long List of
Hummingbird Attracting Flowers to Buy!

---