COVID-19 ALERT: Unfortunately, stock of many items at our distributor is on backorder due to the pandemic and manufacturing issues. Their stock changes from day to day even hour to hour, so it is almost impossible to keep up with it. As a result, you may get a notification that your order is on backorder for a short time. We are very sorry for the inconvenience and thank you for your patience.
Stay safe and thank you for your patience and choosing
The Hummingbird Guide.
Dr JBs Red Window
Hummingbird Feeder 
SE6002W
The Dr JBs Red Window Feeder with a Window Hanger. A great deal compared to buying the hanger and feeder separate.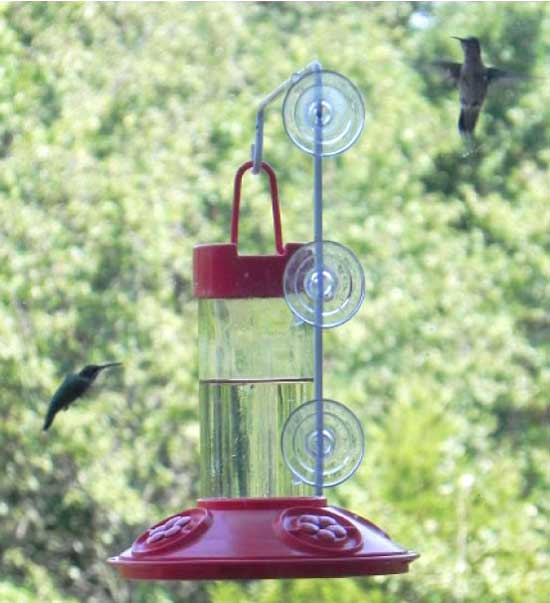 Features:
Said to be the BEST Hummingbird Feeder EVER!!
Now includes Window Hanger (SE077) to make it easier than ever to hang.
Watch hummingbirds from inside as well as outdoors!
Dishwasher safe (place all parts of the feeder in the top rack of the dishwasher).
Unique 2 piece base.
Innovative flow-control design.
High-quality removable parts.
Bee resistant inner base.
Finally you can clean the inside of a hummingbird feeder.
Wide mouth jar for easy cleaning and no mess when adding sugar and water.
No drip design even in highwinds!
Replacement petals available in yellow and red.
---
See My Personal Review of the Dr. JB's Feeder

---
Price: $29.99 (Compared to $35.89 sold separately!)

---
Dr.JB's Red Window Hummingbird Feeder
---