FTC Disclosure:  If you make a purchase via a link on this site, We may receive a small commission on the transaction - at no added cost to you. Thank you!
The Hummingbird Guide Creators
......About Us

THE BEGINNING OF US!.......
The Hummingbird Guide Creators, Jim & Ruth .....

Let us introduce ourselves, tell our story of how we came to love hummingbirds and share the inspiration of this website.
NOTE: We never realized how hard it would be to write about ourselves and personal history until we attempted this but....................HERE GOES!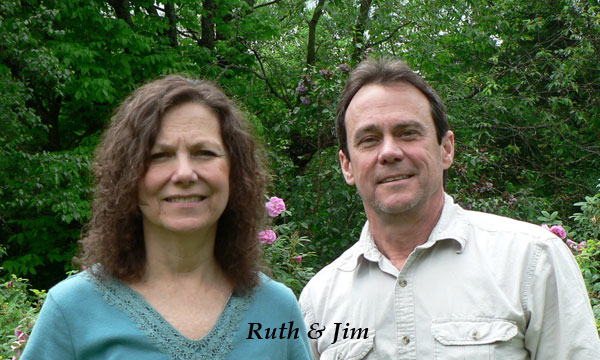 We met in college as a junior and sophmore, discovered our mutual affection for nature and the outdoors, fell in love, married at a very young age and the rest is history!......
actually it is now 50 years of history together. We celebrated our 50th wedding anniversary on September 4, 2021.
SETTLING IN VERMONT........
During these 50 years together, because we both have a self-sufficient and independent nature we started our lives together by immediately moving away from home. We resumed college and graduated with degrees in education.
Then......loaded up the Volkswagon Bus and went on our way traveling through New England looking for our way in life. There was something different when we were traveling through Vermont....... There were no billboards along the highways! Billboards aren't allowed in the state of Vermont.
As we traveled along the many dirt roads we enjoyed the beautiful mountains and rural countryside. We were drawn to the beauty of Vermont and the quality of life it had to offer. As a result we settled here, bought a log house, hung a hummingbird feeder, started a family and never left. We enjoyed the outdoors and the wildlife, planted vegetable and flower gardens, hiking, camping, fishing and befriended the hummingbird!
FALLING IN LOVE AGAIN...........
with hummingbirds!
We became fascinated with these amazing birds. We needed to learn everything we could about attracting and caring for hummingbirds. The more we learned, the more curious we became with their interesting behavior and characteristics. We spent years researching hummingbirds learning all we could.
SURVIVAL IN A RURAL STATE........
more cows than people!
Vermont is a beautiful rural state but jobs aren't plentiful here. We came to the conclusion: If you want a job in Vermont, start one yourself. We had "jobs a-la-carte" so to speak. Ruth worked part-time teaching and was a part-time at home Mom. Jim worked part-time in construction while exercising our entrepreneurial spirit and started our carpet cleaning business.
LIFE'S CURVE BALL!
Life has a way to spin on a dime. Ruth was diagnosed with Type 1 diabetes when she was 40 years old. Consequently, its a very expensive disease to maintain and hard to manage. Working at home was a helpful way to control her disease. The carpet cleaning business was a way to work from home doing the scheduling and bookwork.
We did fine until the economic recession of 2008 took its toll on our small business. We then realized we needed to come up with something to add to our income. Also, our retirement years are approaching and realized we will need to supplement our income when we reach this plateau.
"Go confidently in the direction of your dreams. Live the life that you imagined." Henry David Thoreau
Because of our fascination with hummingbirds, a desire to share our knowledge and meet other hummingbird enthusiasts, we became excited about the possibility of starting a website business about hummingbirds, a hobby we love, and supplementing our retirement.
How We Became the
Hummingbird Guide Creators

We thought of starting an internet business rather than a "brick and mortar" business. By doing so, we could reach a much larger potential customer base beyond the small rural state of Vermont. We started to accumulate many books about starting an internet business and discovered several publications that highly recommended SBI which stands for Solo-Build-It. SBI requires no programming or web design skills to build a successful internet business. We had no such skills and discovered SBI could take our hands and walk with us through the process of starting our own internet business. We learned about all the successful people who built websites through SBI. We saw how we could share our passion of hummingbirds and build a web business at the same time. We discovered any passion can turn into a successful website with SBI.
WE ARE NOW RETIRED WITH SOME SECURITY!


Why are we telling you this! 
If you are getting close to or already retired......
you may be looking for a new challenge, supplemental income or freedom and mobility.........
then take look at these people in your same situation who are enjoying a challenge and income from an SBI web business.

We are now "semi-retired" with some security. That is, "Semi", because we do spend a considerable amount of time maintaining this website, a job we do enjoy!
We can spend time with our grand daughter and family, travel leisurely and pick our own hours to work. As long as you have an internet connection, you can maintain your business. 

---