Hummingbird Poems
Here are a few Hummingbird Poems to warm your heart.
We would love to hear your poems to warm our hearts!
Enjoy these famous poems about hummingbirds along with my (Ruth's) "not-so-famous" poem.

This poem by Pulitzer Prize winning poet Mary Oliver is my personal favorite. You can find it in her book "RED BIRD".

Summer Story
by Mary Oliver
When the hummingbird
sinks its face
into the trumpet vine,
into the funnels
of the blossoms
and the tongue
leaps out
and throbs,
I am scorched
to realize once again
how many small, available things
are in this world
that aren't
pieces of gold
or power-------
that nobody owns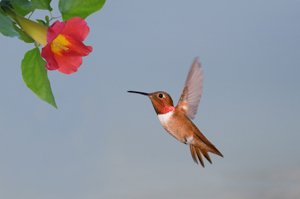 or could but even
for a hillside of money-----
that just float
in the world,

or drift over the fields,
or into the gardens,
and into the tents of the vines,
and now here I am

spending my time,
as the saying goes,
watching until the watching turns into feeling,
so that I feel I am myself
a small bird with a terrible hunger,
with a thin beak probing and dipping
and a heart that races so fast
it is only a heart beat ahead of breaking------
and I am the hunger and the assuagement,
and also I am the leaves and the blossoms,
and, like them, I am full of delight, and shaking.

---
This poem by Emily Dickinson is possibly the best known Hummingbird Poem.
The Humming Bird by Emily Dickinson

A route of evanescence
With a revolving wheel;
A resonance of emerald,
A rush of cochineal;
And every blossom on the bush
Adjusts its tumbled head,--
The mail from Tunis, probably,
An easy morning's ride.


---
Here is the beautiful Pablo Neruda Poem, "Ode to the Hummingbird".

A great Robert Frost Hummingbird Poem, "A Prayer in Spring".
A modern style DH Lawrence Poem, "Humming-bird".

---
Do you have a "Hummingbird Poem" that you would like to share? We would love to hear it!
Please Use the FORM below to Submit Your Poem.

---
Amateur Poems:
I wrote this poem one late Autumn afternoon.
As my husband was chopping wood for our log cabin, a hummingbird stopped by our feeder one last time before his long migratory journey south.
Sentimentality about the passage of time in general was crystalized by the hummingbird's last meal of the season.

The Hummingbird by Ruth White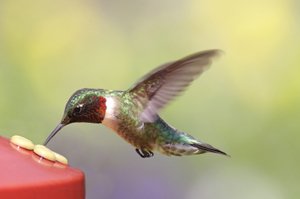 Savoring the last
sweet bite of summer
spent trailing
the stopwatch,
succulent flowers
sip a hummingbird's
farewell dinner in flight,
so it is, I stand,
sap drawn
from aged seasons wood pile,
stalled kisses swell,
adieu,
sparkling as safely as
yesterborn Autumn's
reminiscent embers.

---
by Debi Adams

The sunlight speaks
And it's voice is a bird
It glimmers half guessed
Half seen half heard
Above the flowered
Over the lawn
A flashing dip
And it is gone
All it lends To the eye
Is this A sunbeam giving
The air a kiss
---
Song Bird Delight by Mario Vitale

Song Bird Delight
Sweet fragrant melodic tones
Through the trees they go Searching for tiny food to fill their beaks
Singing beautiful songs of delight
As a beacon of hope in love's fruition
The vast domain of nature's beckoning call
Soaring through the air for all to see
Amidst love's duration an opened door
Traveling through a magical interlude
We search for joy out of self to please
Yet look at how beautiful a song bird receives the sweet message of love
Shaped through Lavender decorum a will to survive
We each must never relent to ever give up on the fight
Silence etched through a doorway of promise
Beautiful birds with colors of illumination
Spreading there wings as a unique promise of delight
A pulse resonates out on the patio
To reach love's full duration
A promise that was made in the dark has come to light
Lines formed in there vast duration
The heart is an open door by which to explore
A challenge to be free is a question to shine
Nature can remove the scales to all that is sad
A look at a twilight sun that has tainted my inner vision

---
Hummingbird Guide
› Poetry