Hummingbird-Guide Store Testimonials

Here are some Hummingbird-Guide Store Testimonials from our happy customers.
We would appreciate your testimonial.
Please fill out the form below to submit yours.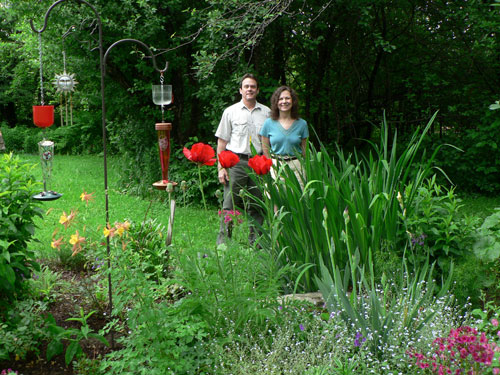 ---
I received my Ant Motes from "The Hummingbird Guide" website and I'm happy to say I'm no longer being bitten by ants or having them crawl on me as as I clean and refill my feeders!
I tried other methods of coating the poles the feeders hang on but nothing worked for long.
I should have ordered the ant motes sooner- a great long term solution to ants.
Thanks for a great hummingbird supply and information website!
Sue - Pittsburgh, PA
---
Thank you for your notice about ants, I ordered the ant deterrents and they really work.
I enjoy your newsletters and information about the hummingbirds I love.
Jean - Ellisville, MO
---
The feeder (2nd one purchased) is great! Our little flock of hummers enjoy them much more than the flat disc-like feeders we had. They seem to find the perch a comfortable distance from the flower ports so we see them resting more often now. It's a great feeder!  Thanks,
Terry - Kalispell, MT 

---
The large ant moats we just bought are the only products that have eliminated ants in our feeders.  And because they are so large, the water takes a long time to evaporate.  We added two new Hummzingers also since we already have four and love them for their easy cleanup, filling, and bird watching.  The hummers love them too. 
Janice - Raphine, VA
---
I was thrilled to find this moat!  This was the only place I found that offered a moat for the smaller size (4oz) Gem window hummingbird feeder.  I have found that a moat is the only solution for keeping the ants out of a window feeder.  I also love the smaller (4oz) window feeder because I clean it and re-fill it fairly frequently and I don't waste as much nectar with the smaller feeder.  My hummingbirds love this feeder!  They fight over it, of course, but they'll sit on the perch and sip just inches away.  It was driving me crazy to see the feeder fill up with ants by the end of each day.  With the moat, problem solved.  Thanks for offering this product.
Catherine - Byfield, MA    
---
We Love it! It's easy to clean, fill and NO ANTS or BEES! Thanks much and stay safe! :)
Roger - Moline, IL
---
We have been having a BIG problems with ants so I bought a couple of the reservoirs that you put water in that is above the feeder and it works perfect!!!!  It was so funny to watch the ants when I put the first one up!!!
Ann - Valley Springs, CA
---
Perfect. Arrived in plenty of time. I had saved the bottles but over many years with hot sun the plastic bases broke. My humming birds are so happy and so am I. Thanks.
Phyllis - Winters, TX
---
I received all my stuff!  Today I cleaned all my feeders with my new cleaning kit and it gives new meaning to the old adage "to do a job well you have to have the right tools". They are like new and all my birds are happy to have clean dry food again. The brush worked so much better than soaking alone. The other stuff was great too, especially the hummingbird pitcher to mix the nectar without the pan and measuring cup to then boil it!  So happy I found you. I added another hummer today but they all have their own feeder with no fighting! Thanks again. Loved the news letter too. 
Pamela - Canton, GA
---
I absolutely love my new hummingbird feeder. It is truly wonderful that the birds have a place to sit. Much better viewing!
Clayton - Austin, TX
---
Received my feeder yesterday. It was well packed and arrived safely. It is beautiful and the hummingbirds came right away. So far, so good! Thank you!
Connie - Denison, IA
---
Hi James, 
Happy New Year! I wanted to send a quick note thanking you for all that you did to get my order to me - everything arrived in time for me to give to my mother in law for Christmas and she was SO excited. I really appreciate your commitment to great customer service! 
Thanks again,
Jaclyn - Chicago, IL
---
I love the feeder high quality and never thought of nesting material and I think any bird will love to use it for their nests...
Thanks again

Karen - Cincinnati, OH
---
As opposed to other websites, I was certain I would get an authentic product. My purchases arrived quickly and well packaged. It's still winter here in the midwest so I won't get to use them for a while. But I'm well prepared now for our feathered friends' return. Thank you!
Linda - Fraser, MI
---
Dear Hummingbird Guide,
I am very pleased with my order. I want to first say that my package of two Hummer Helper Helmets arrived very well packaged with no damage. Secondly, the product was a good quality plastic with the hanging hardware included. These should last a long time. Now I just have to wait for it to stop snowing here in Colorado before the Humming birds arrive in May.
Thanks again for your service and newsletter.
Lou - Centennial, CO
---
Customer service is amazing. Received my products quickly even tho one of the products was out of stock. They offered a substitute of greater value for the same price. Can't wait for my hummers to arrive. Thank you so much,
Candy - Kirkwood, NY
---
I ordered a Dr. JB's Clean Feeder SE6002. I received the order promptly but did not put the feeder out until I saw some Hummer activity. 3 days after putting the feeder out I had an issue with the feeder. It happened on a Saturday (of course) when the distributor was closed. I e-mailed James and within a short time James e-mailed me back and said he was sorry for the inconvenience and would make contact with the distributor first thing Monday morning. He did and I received my replacement feeder with in days.Now, that is customer service! My plans are to order from Jim and Ruth when ever I need something for those little guys.
Andy Ermenc - Hendersonville, TN

---
"I Thank You Jim & Ruth!
 
Pleasant $urpri$e and it's still the thought that counts ~ combining orders made within a short period of time...*brainfart on my part and getting a little sidetracked.
Says much for you and your service! Ordered yesterday morning, goodies arrived today...?...don't know how you did it, another nod & a *wink for zip'service."

Pete Ricci - Edwardsville, IL

---
"Excellent service and I love my new hummingbird feeders and especially the mixing container!"
Thank you!
Connie
Connie Smith - Lewistown, OH

---
"So happy to get my order so fast. Love your site lots of good stuff for my birdies and good info. I live in Northern Calif. so my feeders are up year round. Bought some nesting material so hoping to see them start to use it. I have lots of finches, wrens,some Blue Jays, Mocking birds, lots of Asian Doves, Red Tail Hawk and a Falcon." Thanks Pat
Pat Freywald - Vacaville, CA

---
"Excellent product and service. I highly recommend your business."
Jerry Bancroft - Payson, AZ

---
"Everything arrived quickly. I noticed the quality of the ant moats as compared to those found in stores. Also, anxious to use the hummingbird nesting helper for the first time.

Have been following the Spring Migration Map for years. Much appreciated.

In Western Pennsylvania we are in the country and see a  lot of different birds, but the hummers are special.

Will order again in the future."
Charles Demangone - New Derry, PA

---
"Great great customer service. I was missing one item, I notified the company, received an email right back saying it was being taken care of and it was completely corrected with the missing item in my hands within 3 days. Wonderful.

I love the feeders. I bought 3, two of which are the solar ones. They are lovely. And the mixer is genius.  How did I ever manage this before. It is truly a must have.

I'm so glad I found you on the Internet."
Anne Wiser - Yuma, AZ

---
"I have never dealt with such a caring company as Hummingbird-guide store. I had a problem with a hummingbird feeder that I bought and James handled the problem like a pro. There are not many stores that go out of their way to please customers anymore and I really appreciate one that does. Thanks again James for a job well done. I am anxiously awaiting my new feeder."
Joyce, Lakewood - NJ
---
"Shopping on this web site was a most pleasant experience. The catalog is well laid out, and all products are nicely displayed and are presented with useful, descriptive information. The items I ordered arrived promptly and in excellent condition. Customer service was outstanding. I will definitely shop from this web site again as well as recommend it to others."
Michaelene Allan - Old Bridge, NJ
---
"Fantastic service! My order arrived in 3 days as promised and the shipping was free."
Tom Orlowski - Lancaster, PA
---
"I collect Woodstock Wind chimes and have 6 already. I love them. I am a musician and you can't beat the musical integrity of these chimes. This website has an excellent selection. I listened to all of the sounds bytes and was able to find many more for future purchases. The shipping was extremely fast. I plan to shop here from now on."
Martha Maxfield - Liberty, NC
---
"Awesome website! I love hummingbirds! This website has everything. I bought 3 feeders, ant moats, hummer helmets, brushes, natural nectar without red dye, nesting material and a webcam. I am so excited."
Paula Reed - Sacramento, CA
---
"One of the largest, most informative and fun websites about hummingbirds and hummingbird products I found on the internet!"
Angela Moore - Nashville, TN
---
More Hummingbird-guide Store Testimonials:

"This company is a true Ma and Pa. Jim and Ruth were available and answered all of my questions. This type of personal service is almost impossible to find on the internet."
Leslie Pinardi - Masterson, TX
---
"I ordered the Cowboy Wind Chime, it is beautiful. I really like that you can listen to the wind chimes before you buy. This chime sounds just like the "Happy Trails" sound byte."
Linda Rogers - Cape May, NJ
---
"Thank you for the information and for you fantastic website. You have been a great help and I look to your website often."
Linda - Puyallup,WA
---
"Your website helps alot because we needed all that information to maitain our little friend(hummingbird).Thank you."
Amanda - Miami, FL
---
"I recently ordered two of the Jewel Box Window feeders for hummingbirds. I have had many feeders but this product is my absolute favorite. It allows maximum viewing and is super easy to clean. All my other nectar feeders are gone!! LOVE IT."
Beverly - Augusta, KY
---
"Just a few words of appreciation. We are new to keeping hummingbirds and the needs they have. Both of us enjoy watching the birds in our back yard, but having a humming bird flash by you and hearing their wings is just amazing. James and Ruth have been so helpful with all the info they provide and the quality of the merchandise is excellent. Their quick response to all our questions are amazing, you don't wait for days, it's almost instantaneous."
Thank you both for what we call "good old fashion" service.
Louise M. - Graham, WA
---
"The feeder is a present for my wife on Mother's day, but I am certain she will love it.  As for the process, it worked exactly as expected.  The package was delivered earlier than required and was well packaged and the product is great.  Keep up the good work."
John Sherwin - Tucson, AZ

---
"I love the quality of the feeder I purchased, along with how easy it is to clean. I'm not sure my group of hummers like it. Since I switched out my leaky feeder the hummers don't frequent it like they used to. My mixture is the same (mine was the same recipe you sent) so I'm not sure whats up. They may just have to get used to it or maybe they miss the yellow flowers around the feeding openings. But very happy with the product."
Mary M. - San Jose, CA

---
"The Bamboo Wind Chime was just what I was looking for. Shipped promptly. Thank you for such great service."
June C. - South Hero, VT

---
Please submit your testimonial here:

---