TEMPORARILY, WE ARE NOT TAKING ORDERS ON ANY PRODUCTS SOLD IN OUR STORE.

We are so sorry but due to the current pandemic crises, our distributor has stopped distribution and closed down temporarily. We look forward to re-opening our store as soon as the situation permits. We will post a big "OPEN" sign when shopping is resumed.
Stay safe and thank you for choosing The Hummingbird Guide
FLOWER/PLANT ORDERS ARE PROCESSING THROUGH OUR PARTNER, DIRECT GARDENING.
WE WILL UPDATE THIS WHEN OUR STORE IS RE-OPENED!
STAY TUNED,...... THIS IS JUST A TEMPORARY PAUSE!
Hummingbird Species

There are between 325 to 340 hummingbird species (Trochilidoe Family), making our precious jewels the 2nd largest family of birds after Flycatchers.
(Isn't that the best news? Lots and lots of hummingbirds!)
Hummingbirds reside only in the New World including North America, Central America, South America, Mexico and the Caribbean.
In North America, there are only approximately 23 species of hummingbirds
Some observers have confused the Hummingbird Moth with a hummingbird. To learn why, read about the Hummingbird Moth.
Most hummingbirds prefer the lush vegetation of tropical environments such as Equador, Columbia, Brazil, and Costa Rica.
Affectionately called precious gems, these beautiful birds are loved and respected by both serious birders and the general population alike.
Sadly, more than 28 species or roughly 10 percent of these incredible birds are now threatened by extinction.
One of the most famous endangered hummingbird is the
Bee Hummingbird of Cuba, the smallest hummingbird in the world!
Here is a list of endangered species.
Here are a few photos of endangered hummingbirds to view.
---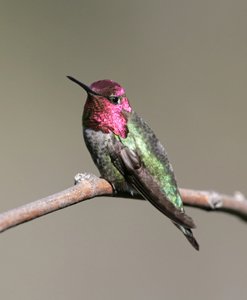 Anna's Hummingbird
NORTH AMERICAN HUMMINGBIRD SPECIES

Allen's, Anna's, Antillean Crested, Bahama Woodstar, Berylline,
Black-chinned, Blue-throated, Broad-billed, Broad-tailed, Buff-bellied, Calliope, Cinnamon, Costa's, Cuban Emerald, Green-breasted Mango, Green Violet-ear, Lucifer, Magnificent, Plain-capped Starthroat, Ruby-throated, Rufous, Violet-ear, White-eared, Xantus'.

Note: Follow the links above to learn more about the individual species.

---
Did you know there are numerous species that have been sighted in each state of the U.S. and each providence of Canada, both common and rare sightings?
One particularly rare sighting is the Albino Hummingbird! Learn more about the Albino Hummingbird.
---
Here we created a table of regions in the United States.
To find the species that have been sighted in your state: locate your state and click on that region.
| REGION | STATES |
| --- | --- |
| West | Alaska, California, Colorado, Hawaii, Idaho, Montana, Nevada, Oregon, Utah, Washington, Wyoming |
| Southwest | Arizona, New Mexico, Oklahoma, Texas |
| Midwest | Illinois, Indiana, Iowa, Kansas, Michigan, Minnesota, Nebraska, North Dakota, Ohio, South Dakota, Wisconsin |
| South | Alabama, Arkansas, Florida, Georgia, Kentucky, Louisiana, Mississippi, Missouri, North Carolina, South Carolina, Tennessee, Virginia, West Virginia |
| Mid Atlantic | Delaware, Maryland, New Jersey, New York, Pennsylvania |
| New England | Connecticut, Maine, Massachusetts, New Hampshire, Rhode Island, Vermont |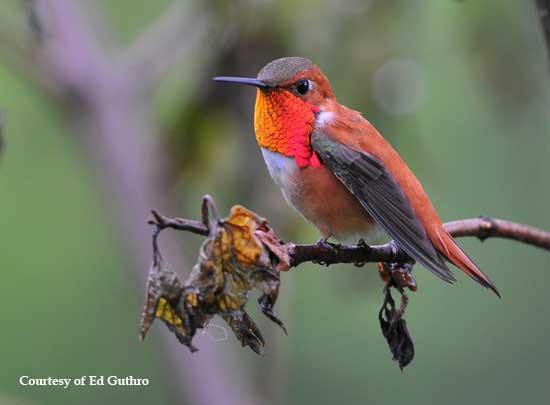 Here we created a table of regions in Canada.
To find the species that have been sighted in your province: locate the province that you live in and click on that region.
| REGION | PROVINCE |
| --- | --- |
| Northern Canada | Northwest Territories, Yukon |
| Southern Canada | Alberta, British Columbia, Manitoba, New Brunswick, Newfoundland, Nova Scotia, Ontario, Prince Edward Island, Quebec, Saskatchewan |
---
HUMMINGBIRD SPECIES IN THE CARIBBEAN
(Please note that these are only a few of the numerous species found there)
Bee Hummingbird, Cuban Emerald, Green throated Caribbean, Green Mango, Puerto Rican Emerald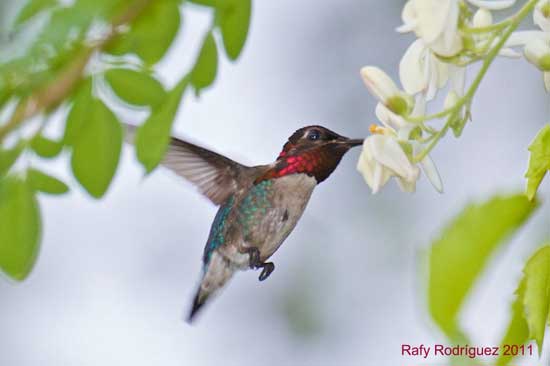 Bee Hummingbird
---
HUMMINGBIRD SPECIES IN CENTRAL
AND SOUTH AMERICA
(Again, these are only a few of the far too numerous species to mention here)
Buff-tailed Coronet, Chestnut-breasted Coronet, Green-backed Firecrown, Green-crowned Brilliant, Little Hermit, Long-tailed Sylph, Juan Fernandez Firecrown, White-throated Mountain Gem
You can guess by their names that these are beautiful birds, and frequently photographed.
---
Hummingbird Species
---