FTC Disclosure:  If you make a purchase via a link on this site, We may receive a small commission on the transaction - at no added cost to you. Thank you!
Matilda the Hummingbird Built Her Nest Today!.....


Your Hummingbird Stories


We love hummingbird stories.
Since hummingbirds are faithful friends, returning to the same feeders year after year, many of us become attached.
We sometimes give them pet names.

Please remember that hummers are wild birds that need to live outside.
Some of us have a more scientific interest in the study of hummingbirds.
Others just love to watch.

Whatever your interest, we would all enjoy your stories.

Do you plant a hummingbird garden?
What flowers do your hummingbirds enjoy most?
Have you ever seen a hummingbird nest?




Please use the form below to submit your Hummingbird Story.

---
Here are few hummingbird stories submitted by our visitors:
Vistor
by Bob
October 8, 2021
(Tyler, Texas)
I need to lead into this so that you know my Mom loved humming birds and I bought her feeders each Christmas. She died in January of 2019 having fought cancer for 2.5 years. She was 93. I was her sole care giver.

So about mid September of 2021 this ornate humming bird Flys down to eye level about 3 feet away and hovers facing me. I smiled and said " Oh...so you want me to get the feeders out!" And that day I pulled out the feeders from storage, looked up a homemade feeder mix, mixed it up and put out five feeders. That day 4 humming birds appeared darting, dodging and swooping around those feeders. The rocket man of birds. Many times I would be working near the feeders and I would heard the sonic fan of one close to my head just hovering watching me. Their wings move so fast you see the wings in both the up stroke and the down stroke with a blur in the middle. So tiny yet the energy of a nuclear device. And they travel similar routes that geese do for migration. Amazing.
October 3th of 2021 the feeders needed cleaning so I took down 3 to cleanup. I replaced the the last two with 2 I had cleaned and refilled. The next couple of days I was down to 2 humming birds the ornate one and one of the plainer looking birds. On the 7th the little ornate guy again flew up and hovered 2 feet facing me for 30 seconds. I got the intuitive feeling it was thanking me for the refill and to say good bye. I have not seen any humming birds as of the next day. Today is October 8th and my feeders will come down tomorrow.

Thank you for the display of acrobatics and your presence friend. Come back as I will be looking for you next year. And be reminded of my Mom's good heart.

---
HummingBird man
by Brad
March 7, 2020
(Peoria, IL)
Last spring I witnessed for the first time a mother bringing her baby to my feeder. Had to be the first time the baby fed from a feeder. Mother showed up and sat on top of shepards hook and i could hear it calling out. About 30 seconds later the baby showed up, smaller than my little finger. What a sight! It had to perch to drink couldnt hover and drink yet. In just a matter of a couple weeks it grew so much. I could tell it from the others by a small mark on its neck. Me and my wife watched it all summer and hope it returns this spring. That was awesome!!
---
Hummingbirds are a Godsend!
by Rafael
August 22, 2019
(Atlanta, GA U.S.A.)
I was over 30 years old and had never seen a hummingbird.

It had been a couple of years since I'd lost my 9 year old son. It was a bad day and I was out on my apartment deck, overwhelmed and consumed with grief. I couldn't find any comfort, so I asked God to show Himself to me, to let me know that He was with me and knew my pain.
I don't have any idea why, but the first thing that came to my mind was to ask God that if He was with me, to make a hummingbird appear.
I no sooner asked then I heard a loud buzzing sound. Never having seen or having heard a hummingbird, I thought it was a big bee. As I tried to swat the 'bee' away, I saw my first hummingbird, right in front of me. It just lingered for maybe 20 seconds before flying away.

Needless to say I completely broke down.

To this day it's my favorite bird, and as I write this now I can look at a window feeder from my bed and watch the hummingbirds come to feed.

I praise God for my small 'miracle', for His love and care and for dying for us.

---
Bee Balm hummer
by Adrianne Catchings
July 7, 2019
(Little Elm, Texas)

This is my second year planting flowers my hummers love. I have one male hummer and two females that come back from last year. On my patio I have feeders hanging and hibiscus and planted in the flower beds some hibiscus. I was out yesterday morning inspecting the plants and was walking to the patio where I have a bee balm plant blooming. (I stopped for a brief moment and thought I have not see a hummer feed from it yet) just a I stood there my male hummer came right in front of me just six inches from my face and started feeding on it with no fear at all. It was a really special moment, as if he was saying thanks for putting my favorite flower out for me to enjoy. These tiny birds are a true blessing from God.
---
My beautiful ladies
by Chuck
April 24, 2019
(Tom's River. NJ)
Thanks for your website. It's informative and I love the tracker. I didn't know a thing about Hummingbirds till 2 years ago when I saw one drinking nectar from my Rose of Sharon. I was amazed. She was a Ruby. Fast forward till now. I have 7 feeders and about 12 birds I can identify by their markings and colors. When I sit out back they will come within a foot of my hand. One will come close to perching on my hand but as of now she only hovers real close. I'm amazed at their territory behavior over food yet they always seem to share with the others when it comes down to it. Last year a mud wasp decided to light on a feeder while one of the ladies was consuming nectar. She grabbed it, snapped it in half and continued eating. I just happened to be video taping her in slow motion and caught it on video.
I'll sit out back for hours watching my girls, video taping them and doing stills with my Cannon camera.

IM 6-3 and 200 pounds With a shaved head and beard. I'm also a retired Law Enforcement officer with PTSD. My friends and girlfriend revoked my man card because I love these birds so much and spend so much time with them.lol. I don't care because these beautiful birds are amazing creatures that I can spend hours with and they don't talk back or give me a hard time like the aforementioned do. They leave me in amazement and wonder as to why God gave us such beautiful birds. I call them my ladies. They help me cope with the PTSD moreso than any therapist or medicine. The Hummingbirds and my Pit Bull out back with me always start my day off right and the PTSD symptoms are non existent during that time. Thanks again for your website.

---
Late migration
by Dan
April 4, 2018
(Colorado Springs, CO)
It was the third week of October 2018 in Colorado Springs. I hadn't seen any hummers around our house for several weeks. I had taken down most of the feeders for the season, but I had been too lazy to bring in two from the back yard. It was snowing outside and the temperature was about 20°F. I looked out our window into the backyard and I saw a little ball of puffed out feathers sitting on a feeder full of ice.
I immediately made some fresh nectar and put out a clean feeder, but by the time I put it up the little visitor was nowhere to be seen. I was devastated thinking of the poor hummer out in the cold that had come to my yard hoping for food, but finding nothing. Then, I had to immediately leave the house for several hours. I finally began to find some comfort in the idea that I had probably seen a different type of small bird that had just happened to perch on the feeder, and that I had imagined that it was a hummer.

When I got home the temperature I immediately looked out the window, and she was back! A little ball of feathers shivering in the feeder. I spent the evening rotating feeders to ensure that there was unfrozen nectar available. In the morning the temperature had dropped to 10°F, and I put out feeders with warm nectar before first light. I attached toe warmers to the bottom of the feeders to to help keep the nectar thawed. When morning light came, she was back. I continued to rotate the feeders as needed all day.

The weather continued to get warmer, and every day she seemed to act more like a happy hummer. Our little visitor stayed for about a week, and then she was gone.

I kept the feeders out until November.

This spring I built and tested 3 heated feeders. I'm ready for my late migrator this year.

---
Last sighting for me in Sept 23, 2013  
by Christine
(Albuquerque NM USA)

After another great season of hummingbird activity, I cleaned and put away my two feeders until next spring. There had not seemed to be any nectar gone for a few days and the nights had been chilly.

When I pulled into the driveway after work, late afternoon, the next day, a hummingbird hovered in front of my windshield as soon as I turned off the car. I counted to ten. Still there.

I opened the car door and stood up, the bird moved to hover at eye level. I counted to ten. Still there. Then I said,

"I thought you guys had already left. I'll make new nectar and put the feeders back up"

I counted to ten; the bird continued to hover. I did not know what else to say, except,

"Sorry about that..."

Then he was gone. After hanging the feeders, two hummingbirds came, one to each feeder. I left them to it in the still warm afternoon.

---
Where's benny
by Amanda

This winter I was so excited because I knew my best friend (Benny the hummingbird) was coming. Well in November I looked outside every single day,but still no Benny, November passed, no Benny. December came I put out lots of new plants my mom and i bought, I put out hummingbird feeders, nectar cups and 2 Hibiscus plants. December passed no Benny. when January came I began to worry, my friend said "Amanda your worrying as if Benny were a human maybe it was his time or he found a home full of plants with nectar don't worry maybe next year he'll come.

---
Hummer & Praying Mantis
by Pat Fash
(Dennison , IL) August 27, 2011 Illinois farm

Did you know that a Praying Mantis could catch & kill and hummingbird??

I sure didn't. We found a Mantis clinging to the top edge of our big feeder, and he was busy eating a hummer! Five days later, the Mantis was back on the feeder, but we killed it this time.

Sure sorry to lose one of our many hummers this way.

---
Tiny Costa Rican Hummingbird
I live in the costal Pacific Guanacaste area of Costa Rica.I have a hummingbird feeder on my front porch and usually enjoy my morning coffee watching the antics of a variety of species enjoying their breakfast.
I have a purple flowered plant growing approx 20 feet beyond my feeder. Those flowers attract a variety of butterflies and moths.
A few weeks ago I spotted an unusual visitor to those flowers. A closer inspection found that a tiny black and white(no colors) hummingbird was feeding on those flowers.He was approx 1 1/2 inches long (including his beak). At first I thought it was a black carpenter bee or maybe a hummingbird moth........but no it was a hummer ! I grabbed my video camera and captured some pretty good shots of it.
I have not yet found anyone who knows anything about him.
If anybody can help me identify this unusual little guy please let me know. In the mean time I will try and figure out how to download the movie.

---
Denis
by Denis Snider

(Ropesville, Texas 79358) 2009 we had spent a week at Ft. Davis in September.
We had several Hummers coming up to our feeder hung close to our motor home. On our last day there, I had put up everything getting ready to pullout to head for home.
I left the feeder to the very last. I finally brought it in and had left the door open while I emptied the feeder into the sink. I looked up and one of the Red Throats we had been feeding had came into the motor home hovering between the two driver seats. I started to walk toward him and talking to him. All of a sudden, he went out the door.
I thought we had seen the last of him. I went ahead started the motor and pulled forward to hook up the Jeep.
After it as done, I came in and washed my hands, got into the seat ready to get underway. When we started to move forward slowly, one of the Hummers started hovering again right in front of the windshield looking in as to say;
"WHERE DO YOU THINK YOU ARE GOING, STOP!!" He stayed there until we got to the highway. It made us sad and we wanted to unhook and stay another peaceful week.
Something we will never forget!! GOOD MEMORY

---
Paul Miller
by Paul Miller
(Vancouver, Washington, USA)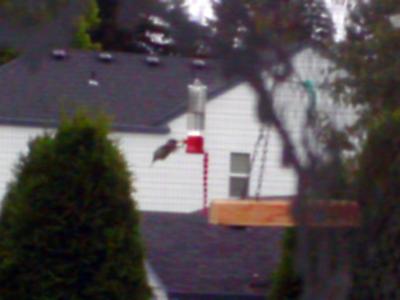 Backyard Anna's
This is the first full year we have put out hummingbird feeders in our Vancouver, Washington home and have named a few distinctively marked regulars in the mix of hummers we get year around here! To help our new backyard hummingbird decor theme, we've collected some hummingbird sun glass, wind ornaments, windchimes (the decoration bird being a huge crow-sized hummingbird which I painted in the native Anna's hummingbird pattern, and a colorful garden flag with what is supposed to be a Ruby Throated hummingbird sipping from a bunch of bright red flowers. Our backyard hummers entertain us by sometimes batting the ornaments around with their beaks and then watching them move. One bird even attacked the wind chimes "bird." repeatedly jamming its beak into the much bigger inanimate bird's neck. This particular bird is my favorite, a curious young Anna's male called "hummy." Hummy noticed my garden flag almost as soon as I put it out. He flew over to it and hovered in front about a foot in front of the flower-hummingbird illustration, eyeing, in turn, the "hummer" and then the flowers. Hummy moved laterally from one side of the flag to the other, left to right, as if he were near-sighted and reading the newspaper. I was in stitches suppressing laughter that would have scared the little bird away. After about twenty seconds of side to side hovering, Hummy satisfied himself the flag wasn't a meal or the bird on it a threat and zipped on to more real flowers.

---
Have A Great Story About Hummingbirds?
Do you have a great story about this? Share it!
What Other Visitors Have Said
Click below to see contributions from other visitors to this page...

---