OPEN!



Our Store is now OPEN again! 
For those of you who are first time visitors to our website, our store was temporarily closed due to COVID-19.
Stay safe and thank you for your patience and choosing
The Hummingbird Guide.
Anna's Hummer Immersed in Fountain
by Sarah Showalter
(Oceanside, CA)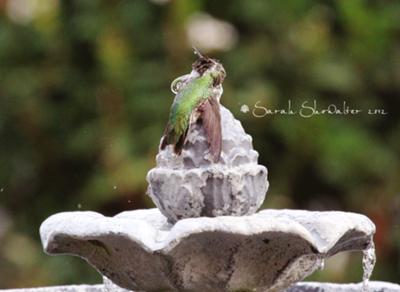 Anna's Hummer in Fountain
Observing the precocious Hummingbird never fails to delight with their bold and surprising behaviors! This little Anna's had been visiting our backyard fountain on an unusually warm day for Oceanside, CA, off and on. Finally, he (or she :-), not satisfied with sips, flew onto the spout and just reveled in the water, draping its little body over the cool, cascading fountain! A rare and wondrous sight!
I use a Canon EOS T3i, generally with a 70-300mm USM lens for yard photography, and I prefer the CA setting with high background blur and continuous shot drive mode.