FTC Disclosure:  If you make a purchase via a link on this site, We may receive a small commission on the transaction - at no added cost to you. Thank you!
Hummers
by Melissa Quinton
(British Columbia ,Canada)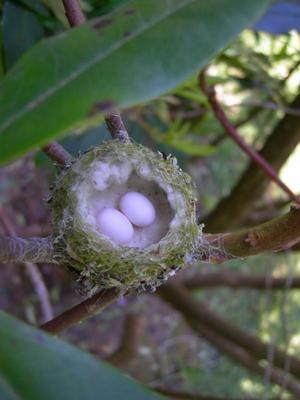 the nest
Click the thumbnail images to enlarge.
I found this hummingbird nest in my Rhodo tree and was fascinated from the moment I saw it ...photos show the journey from eggs to fledglings ...I have about 28 photos in total of the progression.
MODERATOR COMMENTS:
We are so thankful to Melissa for sharing these wonderful photographs with us.
How amazing to see this progression of baby hummingbirds hatching in their nest.
Many of us have never seen this remarkable event. Hummingbird nests are tiny. They are about the size of a walnut shell and very hard to spot.
Hummingbirds look for a water source when seeking locations to build their nests because humidity is needed for the development of the embryo. Often hummingbirds build their nests near streams, ponds, and lakes. Of course, they will also look for a reliable food source. They do not travel far from the nest to feed the new babies. So a location with lots of nectar from flowers is preferred. The nests must be somewhat protected from the elements making them even more difficult to see.
Many hummingbird enthusiasts spend a lot of time searching for the elusive chance to find a hummingbird nest.
Once in a while, someone is lucky enough to spot a hummingbird nest. In this case, it was Melissa, with a generosity to share her exciting photos.