FTC Disclosure:  If you make a purchase via a link on this site, We may receive a small commission on the transaction - at no added cost to you. Thank you!
Coral Capiz Mini Chime
WOODC135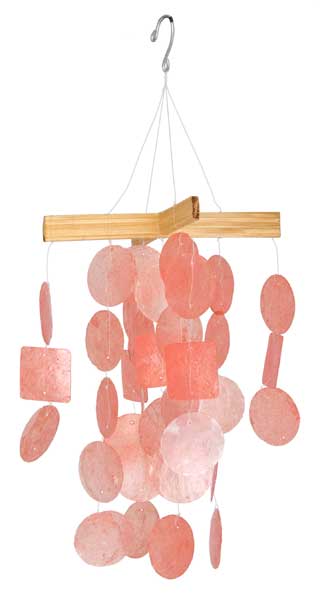 Features:

These chimes are small, but they pack a big punch.They'll add wonderful music to your garden, kitchen, dorm room or patio.

Wood top with 1 inch capiz shells . Thirty round shells and five square shells.

Capiz shells come from pearl oysters, commonly known as kapis. These shellfish are farmed in Indonesia and every bit of the oyster is used. The shells are carefully sorted, dried, sliced, shaped, sanded and dyed. Strung together with strong, invisible, nylon cord, the thin, flat translucent shells provide luminous color.

When touched by the wind, these chimes produce a delicate tinkling musical sound.

In the 1500s, these shells were used as windowpanes in houses; now they are used in all sorts of home decorations, including lamp shades, vases and, of course, windchimes!
Coral Capiz Mini Wind Chime Sound Byte:

Discontinued
---
Fast Shipping!

Most orders leave our warehouse within 1 to 2 business days!

---