Winter Hummingbirds
Winter Hummingbirds, for the purpose of reference, are those that stay year round ("overwinter") in the United States and are found mainly in the Southwest regions. In recent years there has been an increasing number of sightings in the Southeast region of the country. The Rufous hummingbird is the most common sighted in the Southeast and sightings have been increasing in recent years.
We are now tracking your winter hummingbird sightings with our Winter Hummingbird Map below.
Overwintering hummingbirds are a result of the increased interest in hummingbirds and enthusiasts planting hummingbird friendly gardens and displaying hummingbird feeders.
Winter Humminbird Feeder Heater
Here is a Hummingbird Feeder Heater to keep your feeders from freezing during those cold winter nights!
The Hummingbird Feeder Heater is a simple, convenient solution to frozen feeders.
The Heater will help both you and your hummingbirds through freezing conditions.
No more swapping frozen feeders.
No more venturing out before the crack of dawn to put out a thawed feeder.

No more worrying about a feeder freezing when you're not home.
See It Here.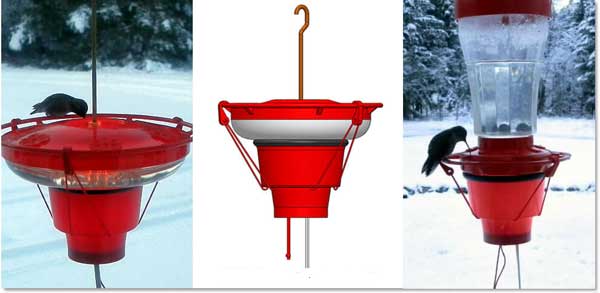 The 10 species most common to "Overwinter" in the United States:
---
Species

Ruby-throated
Rufous
Black-chinned
Buff-bellied
Calliope
Allen's
Broad-tailed
Anna's
Broad-billed
Costa's

Winter Location 
(But Not Exclusive)

Extreme Southern Florida
Gulf Coast
Southeast Gulf Coast
Texas, Louisiana & Mississippi
Southern Louisiana
West Coast
Southeast
West Coast
Southern & Central Arizona
California, Arizona & Baja
We are excited to start this new project
of tracking "Winter Hummingbirds"!
These hummingbirds that "Overwinter" in the United States may be a rare sighting and some, more common. 
We have established a "Winter Sightings Map" of sighting reports from you, our visitors.
See it here.
If you are one of the lucky ones to enjoy these rare and not-so-rare winter hummingbirds we would appreciate your post to the map.
Post your sighting here.
We plan to continue our Winter Sightings Map in the years to come to observe and document the statistics of any change to hummingbird behavior during the winter months and where they inhabit North America.
If you are observing hummingbirds at your feeders this Winter, we would like to track the Winter population of hummingbirds with your sighting reports.
Please report what species and where they are "overwintering" in the United States and Canada.
---
Use this form to submit your sighting:

Winter Hummingbird Sightings Map

Submit Your Sighting in the Form Above
Click the markers to see more information about the individual sightings.
Note: For Directions To Find A Post(s)/Sighting(s) For A Specific "City, State" Click HERE.