COVID-19 ALERT: Unfortunately, stock of many items at our distributor is on backorder due to the pandemic and manufacturing issues. Their stock changes from day to day even hour to hour, so it is almost impossible to keep up with it. As a result, you may get a notification that your order is on backorder for a short time. We are very sorry for the inconvenience and thank you for your patience.
Stay safe and thank you for your patience and choosing
The Hummingbird Guide.
Courtship Flight Perhaps
by H.Kathy Hollick
(Lynden, WA)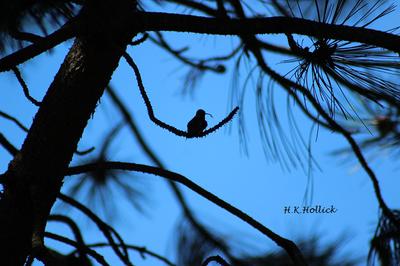 While sitting on our deck early one evening with camera on the ready, I happened to hear a hummingbird in our long needled pine tree.
As soon as I caught sight of the hummingbird I began to click away realizing that the hummingbird looked like a silhouette against the backdrop sky so blue.
What I did not realize until I uploaded the photo's to my computer was that I had actually captured a male pestering the female as she sat resting.
At the time a new user of the Cannon Rebel T3.
Join in and write your own page! It's easy to do. How? Simply click here to return to Your Hummingbird Photos.