Courtship Flight Perhaps
by H.Kathy Hollick
(Lynden, WA)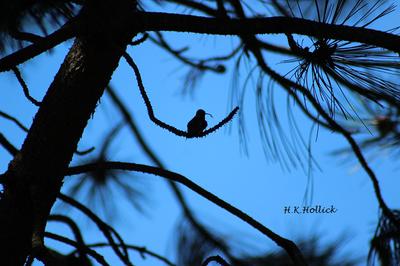 While sitting on our deck early one evening with camera on the ready, I happened to hear a hummingbird in our long needled pine tree.
As soon as I caught sight of the hummingbird I began to click away realizing that the hummingbird looked like a silhouette against the backdrop sky so blue.
What I did not realize until I uploaded the photo's to my computer was that I had actually captured a male pestering the female as she sat resting.
At the time a new user of the Cannon Rebel T3.