FTC Disclosure:  If you make a purchase via a link on this site, We may receive a small commission on the transaction - at no added cost to you. Thank you!
Hummingbird Festivals 2023


Many festivals/events have been cancelled, postponed or rescheduled due to COVID-19.
We recommend contacting the event through their website to see the status.
---
Easy to Follow resource list of Hummingbird Festivals, Banding Events, Exhibits and Workshops in 2023 listed by date and state. 

We will be updating the dates as they are posted by the festival committees.

Please contact us for any corrections or to submit a festival for listing.

Hummingbird Festivals are held to celebrate the hummingbird. These events are family friendly. Many host speakers and guided tours of gardens or parks.
---
---
Hummingbird banding is a captivating event where you can watch science in action. You might even be able to "Adopt-a-Hummingbird" and partake in conservation efforts aimed at preserving these wonderful birds.
All festivals are child friendly. Some are free, while others require a donation.
We work hard to keep these listings up to date from year to year and insert any new festivals that we discover.
If you are in charge or on a committee of any of these festivals we would appreciate any updates that you may have.
If anyone else is aware of a festival that is not listed here please let us know and we will be happy to insert it into the listings.

---
 Hummingbird Festivals in March

---
| | |
| --- | --- |
| March, 2023 | Santa Cruz, California |
Hummingbird Month – March 2023
Time: Gates open at 8:00 AM
Come explore the breathtaking gardens of the UC Santa Cruz Arboretum and Botanic Garden.

See in person the many lovely plants that attract one of the Garden's most celebrated birds - the Hummingbird! (Plant List PDF).

Join a tour from one of the Arboretum's experienced Tour Guides! Also, we're hoping the local Bird School Project will be joining us, offering tours and an information table in the gardens.

Visit our Photo table in the Australian Garden, get some photography tips from volunteer photographers, Ferd Bergholz & Bill Bishoff.

This time of year you'll likely spot both Anna's and Allen's hummingbirds, the two most common species in Northern California. "The density of hummingbirds — the number per area in the Arboretum — is ridiculously high," says Bruce Lyon, professor of Ecology and Evolutionary Biology at UCSC. "You can watch them feeding on flowers, you can watch their courtship, you can watch them chasing different species — it's a great opportunity to see some pretty amazing hummingbird biology."

Contact: 831-427-2998. 

---
---
 Hummingbird Festivals in April

---
| | |
| --- | --- |
| April 7 – 29, 2023 | Ketchikan, Alaska |
Alaska Hummingbird Festival
April 7 – 29, 2023 Ketchikan Southeast Alaska Discovery Center
The rufous hummingbird is the most widely distributed hummingbird in North America, and the most common hummingbird in Alaska (Anna's hummingbird is the only other, and a rare visitor at that). The rufous migrates to Alaska every spring, traveling up the coastline from the Pacific Northwest, arriving in Alaska throughout April.

The Alaska Hummingbird Festival celebrates the return of rufous hummingbirds to the Tongass National Forest. The Southeast Alaska Discovery Center serves as the hub for a series of events, including a juried art show opening at 5 pm April 7 highlighting birds, bird habitat, and bird migration. Artwork will be on display at the Discovery Center through June 30, 2023.
Scheduled activities include Saturday morning guided bird walks, the Friday Night Insights lecture series, and Earth Day activities at the Discovery Center. All programs and activities are free to the public.
For more information contact Hazel Brewi at 907-228-6246 or hazel.brewi@usda.gov
---
| | |
| --- | --- |
| 2023 - Unkown |     Utopia, Texas |
Nature Quest 2020
During Nature Quest you'll enjoy learning about Texas Hill Country Birds, Small Cavity Nesters, Bluebirds, Raptors, Hummingbirds, Bats, Butterflies, Insects, Champion Big Trees, Natural History, Native Plants, Useful & Medicinal Plants, Wildflowers, Invasive Plants, and how to make your own backyard a Wildlife Habitat.
Diverse Vegetation and Wildlife, Monumental Trees on the National Registry of Big Trees, the World's Second Largest Mexican Free-tailed Bat Population, Plants & Flowers found only in the Hill Country, Rare and Endangered Species of Birds such as the Golden-cheeked Warbler and Black-capped Vireo are just a few reasons why....
The Hill Country River Region is a perfect backdrop for your Nature Quest Adventure!
Fieldtrip Leaders & Speakers Include:
Tony Gallucci, Bain Walker, Lee Haile,
Ken Cave, LeAnn Sharp & Anthony Sharp

Along the Clear Frio, Nueces & Sabinal Rivers
Uvalde, Real & Bandera Counties
Near Concan, Uvalde, Utopia & Vanderpool Texas

Nature Quest Headquarters Located
10 miles W. of Utopia & 5 miles E. of Garner State Park On FM 1050
at Hill Country Nature Center
Nature Quest  ~  830-966-2134  ~ info@hillcountryadventures.com
---
Festivals in May

---
| | |
| --- | --- |
| No Update for 2023 | Missouri State Parks |
Hummingbird Banding

You will get a close-up look at this tiny bird and learn about its life history. No reservations are required. The study site is located at the park's visitor center. You are welcome to bring cameras, but will be instructed to keep an adequate distance from the birds and researchers in order to ensure the safety of the birds.
Event times: 9 a.m/10 a.m. - 1 p.m. (Check for each event)

Onondaga State Park - 7556 Hwy. H, Leasburg, MO | (573) 245-6576
Montauk State Park - 345 County Road 6670, Salem, MO | (573) 548-2201

May 4, 2019

July 6, 2019


Aug. 3, 2019




Sept. 7, 2019




Onondaga State Park, Leasburg, MO
Onondaga State Park, Leasburg, MO
Onondaga State Park, Leasburg, MO
Onondaga State Park, Leasburg, MO


---
No Update for 2023


Logan County, Arkansas
Mount Magazine State Park

Hummingbird Special
The Lodge at Mount Magazine
Each year, the return of hummingbirds is eagerly awaited at Mount Magazine State Park. Marvel at these acrobatic pollinators during this family-friendly, nature-themed celebration with hummingbird banding by experts, garden tours, and a station called "Hummingbird Haven," featuring make and take crafts, concluded with a free concert by Still on the Hill. The hummingbird special is designed to enhance your enjoyment of hummingbirds and educate about pollinator importance.
Admission: Free
CONTACT: (479) 963-8502, mountmagazine@arkansas.com
---
---
No Update for 2023


Dade City, Florida

Pioneer Florida Museum

Hummingbird Festival

Pioneer Florida Museum has been busy planting this spring and things are growing great! We have been planting gardens especially to attract hummingbirds and butterflies. We see many butterflies and even the elusive little birds almost every day. Come out to the Museum on Saturday, May 17th, any time between 9am and 4pm and enjoy a day with us.

Presentations inside will include:

all day - "Birds of Prey" with Gabriel Vargo
11 am - "Butterfly Gardening" with Bob Gallion
12 noon - "All About Hummingbirds" with Bev Hansen
1 pm - "Native Pollinators" with Debi Donaldson
2 pm - "Good Bug, Bad Bug" with Vince Stoble

There will be music; "Sacred Harp Singing" in our church and "The Barking Dogs" will be playing out on our grounds. Our concession stand will be open serving up lunch to attendees. There will be a chance to build a bluebird box for children, and finished ones will be available in our gift shop. Our gift shop will be stocked with great hummingbird and garden gifts along with our regular gift shop items. Also included in the festivities are arts & crafters, traditional craft demonstrations, Florida native plant sales.

Additionally, the museum's historic buildings will be open and the collections on display. Please note that
although hummingbirds are the focus, we do not have them in cages!

Festival admission is $8 for adults, $6 for seniors and $4 for students. As always, children under 5 are FREE. (Please, no coolers, or pets although service animals are welcome.) The museum also offers FREE parking and handicap accessibility.
Location:
Pioneer Florida Museum and Village
15602 Pioneer Museum Road
Dade City, Florida
---
| | |
| --- | --- |
| No Update in 2023 | Colorado Springs, Colorado |
The Friends of Cheyenne Cañon announces this year's event at the Starsmore Visitor and Nature Center. The Cheyenne Cañon Hummingbird Experience is part of the Pikes Peak Birding and Nature Festival (PPBNF). http://pikespeakbirdingandnaturefestival.org/

The event partnership includes Friends of Cheyenne Cañon and the Starsmore Visitor & Nature Center staff along with Aiken Audubon Society, Bear Creek Nature Center, Cheyenne Mountain State Park, Cheyenne Mountain Zoo, Chico Basin Ranch, Colorado Parks & Wildlife, Colorado Springs Parks & Recreation & Cultural Services, El Paso County Recreation & Cultural Services, Fountain Creek Nature Center, Friends of El Paso County Nature Centers, Garden of the Gods Visitor and Nature Center, Pikes Peak Community College Pikes Peak Community Foundation and Pinello Ranch/Venetucci.

The festival will highlight bird and nature events throughout the region. North Cheyenne Cañon Park will be the site of two hosted field trips, with registration and RSVP required through the Pikes Peak Birding and Nature Festival. (719)-282-7877 http://pikespeakbirdingandnaturefestival.org/

The Hummingbird Experience on Saturday is chock full of free family oriented events that highlight the hummingbirds that visit the Cañon every year.

Date: Saturday, May 21, 2016

Location: Starsmore Visitor and Nature Center (formerly Starsmore Discovery Center)
2120 North Cheyenne Canyon Road,
Colorado Springs, CO 80906

Time: Times vary by event

For more information:  (719) 385-6086

Events at the Starsmore Visitor and Nature:
*Hummingbird Banding, *Hummingbird Lecture, Raptor Display, Family Hummingbird Discovery Event, Tent Activities for Kids, Hummingbird Plant Sales and more! Go to the Friends of Cheyenne Cañon website for up to date information and a complete schedule. http://cheyennecanon.org/  

*Registration required for the Guided Bird Walk, Hummingbird Lecture and the Hummingbird banding sessions. Register through the Pikes Peak Birding and Nature Festival website. (www.pikespeakbirdingandnaturefestival.org) (719)-282-7877

No registration required for the Saturday 10-3 events.
 
About the Friends of Cheyenne Cañon:
The Friends of Cheyenne Cañon provides financial and volunteer support to help maintain the City's first wilderness park and preserve and operate Starsmore Visitor and Nature Center and Helen Hunt Falls Visitor Center. For more information about great hikes in the Park and the history of the Cañon, or to join the Friends of Cheyenne Cañon go to http://cheyennecanon.org/ 
For more information: (719) 385-6086

---
| | |
| --- | --- |
| No Update in 2023 | Kaskaskia, Illinois |
The Nature and Hummingbird festival will not be held in 2015.
Nature Festival
Nature Festival and hummingbird banding. Nest box building, educational speakers, wildlife exhibits.
Website
Contact: Tim Dever Email: coltond98@sbcglobal.net Phone: 618.475.2366.

---
 Festivals in June

| | |
| --- | --- |
| Update for 2023: |  Illinois Festivals.....Sponsored by the Lincoln Land Association of Bird Banders. |
Guests may "adopt" a hummingbird at any of the banding sites by making a $5 donation to the Lincoln Land Association of Bird Banders.  Donors will receive an attractive signed certificate, be given the privilege of releasing their adopted bird (if enough birds are captured), and will be notified if their birds are ever recaptured.
Contact:
Vernon Kleen
Lincoln Land Association of Bird Banders (LLABB)
217-787-3515
vkleen@comcast.net
2023 Hummingbird Festival Schedule
June 24th
3pm to 6pm

Stoecklin Orchard, Donnellson
Bond County

July 1st   
9am to Noon

Siloam Springs State Park       
Adams County

July 8th       
9am to noon

Lewis & Clark Historic Site
Madison County

July 13th    
4pm to 7pm

Engle Farm, Roodhouse
Greene County

July 16th
2pm to 5pm 

Schlueter Home, Mascoutah
St. Clair County

July 20th
9am to Noon 

Sam Dale Lake C.A. (Johnsonville)
Wayne County

August 5th
9am to Noon   

Stoecklin Orchard, Donnellson
Bond County

August 5th
2pm to 5pm

Lievers Home, Worden
Madison County

August 13th
1pm to 4pm

Engle Farm
Union County

August 19th
9am to 12:30pm

Camp Sagawau Environment Center
Cook County

August 19th
2pm to 5pm

Plum Creek Forest Preserve
Will County

August 20th
2pm to 5pm

Schlueter's House, Mascoutah
St. Clair County

August 20th
3pm to 6pm

Rock Springs Nature Center
Macon County
Additional festivals will be scheduled.
---
Hummingbird Festivals in July

| | |
| --- | --- |
| July 8, 2023 | Harford, Illinois |
Hummingbird Festival at Lewis & Clark State Historic Site
From 9 AM until 12 PM the Lewis & Clark State Historic Site, in cooperation with the Lincoln Land Association of Bird Banders, will be catching and banding hummingbirds.
Experts will discuss hummingbirds, the banding process, and how to encourage these gorgeous birds to visit your yard.
There are over 325 species of hummingbird in the world and five that can be found in Illinois including the ruby-throated, black-chinned, Rufous, Allen's, and broad-billed.
The tiny wonders can consume half of their weight in sugar a day and to power hearts that beat at over 1,200 beats per minute! Though extremely tiny, hummingbirds have excellent memories and can remember most if not all blooms they visit.
Their eggs are the size of jellybeans and their nests about the size of a ping-pong ball.
Come see these natural wonders in their native habitat on a beautiful summer day in Illinois!
* This is an outdoor event during the summer. The amount of hummingbird activity can vary depending on weather and temperature conditions. Visitors are encouraged to bring lawn chairs, water, and sunblock!
Location:
Lewis & Clark State Historic Site
#1 Lewis and Clark Trail
Hartford, Illinois 62048
Admission: Free
Time: 9:00 AM to 12:00 PM
---
| | |
| --- | --- |
| July 29 & 30, 2023 | Silver City, New Mexico |
Mimbres Hummingbird Festival:
Schedule of Events
Saturday
8 am - Banding Starts
8 am - Vendors Open
​8 am - Duckstop Gourmet Food Opens
9:30 am to Noon - Curl Up and Dye Face painting
10:00 am - Kid's Activity Center Opens
10:00 am - Ice Cream Sales Open
10:45 am - SPEAKER:
     Terry Timme, President of Southwestern NM Audubon
                "What Birds Need and How You Can Help"
11:40 am to Noon -  "Up Close", Feeding of Hummingbirds
12:30 pm - SPEAKER: 
      Susan Clair, Grant County Beekeepers Organization                                             "Honeybees and Friends" 
 2:00 pm to 2:30 pm -  "Up Close", Feeding of Hummingbirds
2:15 pm - Tour of the Mattock's Site with 
                   Archaeologist Marilyn Markel
3 pm - Vendor's Close
Sunday
8 am - Banding Starts
8 am - Vendors Open
​8 am - Duckstop Gourmet Food Opens
​10:00 am - Kid's Activity Center Opens
10:00 am - Ice Cream Sales Open
10:30 am - SPEAKER:
      Elissa Fazio-Rhichard
"How Do You Catch a Hummingbird? - Reflections of a Hummingbird Bander"

11:40 am to Noon -  "Up Close", Feeding of Hummingbirds​
1:00 pm - SPEAKER:
     Elissa Fazio-Rhichard
"How Do You Catch a Hummingbird? - Reflections of a Hummingbird Bander"
2:00 pm to 2:30 pm -  "Up Close", Feeding of Hummingbirds
2:15 pm - Tour of the Mattock's Site with 
                   Archaeologist Marilyn Markel​
3 pm - Vendor Close
---
No Update 2023


Eager, Arizona
Sipe Wildlife Area

Sipe White Mountain Wildlife Area – Eager
8:00 am – 12:00 pm
The Arizona Game and Fish Department is again offering a unique opportunity for people to learn more about Arizona's colorful forest hummingbirds at the 15th annual High Country Hummers Festival. Sheri Williamson, one of the nation's foremost experts on hummingbirds, will lead a capture and bird-banding event with the invaluable assistance of a dedicated group of volunteers that is free and open to the public. Participants will be able to observe researchers up close as they handle, measure and band these flying jewels. The festival takes place at the department's Sipe White Mountain Wildlife Area located near Eagar in eastern Arizona.
This one-of-a-kind program begins at 8 a.m. and concludes at noon. Come prepared to spend most of the morning outdoors with the potential of some summer rain. It's a good idea to bring a camera, as there will be plenty of great photo opportunities, such as taking your picture with a live raptor at the Department's Adobe Mountain Wildlife Center "critter photo booth."
Sheri is the author of the Peterson Field Guide to Hummingbirds of North America. She, together with her husband Tom Wood, founded and operate the Southeastern Arizona Bird Observatory (SABO), which is a non-profit scientific and educational organization based in Bisbee. SABO's mission is to promote conservation of birds of southeastern Arizona, their habitats, and the diversity of species that share those habitats through research, monitoring and public education.
Other fun programs will also be offered
Birding for kids. An opportunity for kids to make their own hummingbird feeder to take home
Tom Wood will lead a fascinating presentation on hummingbird natural history
Adobe Mountain Wildlife Center will have an educational exhibit featuring hawks, owls and other wildlife
Get your photo taken with one of the Adobe Mountain Center animals
Department staff will discuss and instruct on how to photograph hummingbirds. Be sure to bring your camera and a tripod for this hands-on activity
Department staff will lead a "birding basics" program, including identification tips, recommended field guides and technological tools available to aid in learning about our avian visitors
People are welcome to explore the visitor center's interpretive displays on wildlife conservation, habitats and prehistoric culture
Exhibitors
White Mountain Audubon Society
"Grow a Bird Feeder" – Information on landscaping for hummingbirds
Pets must be kept on a leash and are not allowed near live wildlife.
Breakfast and lunch concessions will be provided by the Springerville-Eagar Regional Chamber of Commerce.
The Sipe Wildlife Area is located southeast of Eagar and Springerville. From Eagar, take Highway 191 toward Alpine for about two miles to the signed turnoff at the top of the first hill. Drive south five miles to the Sipe property on a gravel road suitable for passenger cars. Parking is extremely limited if the area has received recent rains. Check forecasted weather conditions before and for the day of the event. 
For more information, contact the Pinetop Game and Fish Department regional office at 928 532-3680.
---
July 28 - 30, 2023


            Sedona, Arizona
           Sedona Red Rock High School
           995 Upper Red Rock Loop Road
           Sedona, AZ  86336  
FESTIVAL ACTIVITIES — Overview

Presentations:  3 days of presentations by hummingbird experts from around the world in the modern, air-conditioned Sedona Performing Arts Center.

"Birds & Blooms" Hummingbird Garden Tours:  Each ticket valid for two days, permitting a self-guided garden visit at your own schedule one or both days. This allows you to visit the gardens and spend as much time as desired but still see lectures on the opposite day. You will take your paypal receipt and bring it to SPAC location where you will get a wristband and garden tour map to enjoy the gardens.  You may pick them up anytime Fri/Sat/Sun after 8am.  We are pleased to welcome Birds & Blooms Magazine as a Platinum level corporate sponsor this year!

Gala Banquet Celebration: A delightful highlight of the 3-day event Saturday evening, with dinner and good times.

Banding (free):  See tiny numbered band attached to a hummingbird's leg so that its movements can be scientifically followed!  8:00 a.m. - 12:00 noon

Exhibits (free):  The Hummingbird Marketplace (exhibitors and vendors area), held in the lobby of the Sedona Performing Arts Center, with easy access to shopping opportunities for "everything hummingbird." As before, no admission fee!

Food Vendor:  The Sedona Community Center will be our food vendor providing both a continental breakfast in the early morning and lunch selections each day.  They will also have drinks available for sale.  So you can enjoy a meal without having to leave the facility.

Art Exhibit (free):  Excellent hummingbird art at two different locations in Sedona.

Birding Trips:  Birders will have the opportunity to visit one of two different habitats, Page Springs Fish Hatchery and Oak Creeek Canyon; tickets $12, but reservations required because of limited capacity. Trips are led by the Northern Arizona Audubon Society.

DETAILS on all parts of the festival will be found under the individual tabs as they are updated.

You can read about the first Sedona Hummingbird Festival (2012) in this excerpt from The Hummingbird Connection, the official member magazine of the Hummingbird Society.

ABOUT SEDONA
The Sedona Hummingbird Festival is always held the first weekend in August, when Sedona's hummingbird population is highest and most diverse—5 or even 6 species instead of the usual 2—and with typically five times the number of hummers as in early summer. Thanks to Sedona's high altitude of 4,500 feet, we escape the intense summer heat experienced in more southern parts of Arizona (more at the Sedona tab). August is also a "low season" for tourism in Sedona, so you'll be able to take advantage of lower lodging prices. We're working on securing deals from participating hotels and motels; see "lodging deals."
Arizona is already well known as the top state for seeing many hummingbird species (a fact that Texas disputes, of course). People travel great distances just to see Arizona's hummers. But Sedona also has Red Rock Country, and that makes it even more desirable to come here to see hummingbirds. Is there a prettier place in America to see hummers? We don't think so! That's the reason behind the tagline for the Sedona Hummingbird Festival: The Most Beautiful Place in America to See Hummingbirds.
Sedona Hummingbird Festivals were spectacular community events!  Residents and businesses were encouraged to include hummer-friendly flowers in their yard. Those lacking time or inclination for gardening put out feeders, especially beginning in June. By keeping the feeders filled and fresh, residents year after year see that migrants will reward their benefactors by returning—with friends and relatives—leading to ever-higher populations. In our dreams, the Hummingbird Society imagines feeders even hanging from the street signs, but that may not happen right away!
Festivals in August

---
How beautiful is Sedona? We know of no more beautiful description of Sedona than this video. Be sure to make it full screen.
---
| | |
| --- | --- |
| August 6th, 2022 | Connersville, Indiana |
IAS Hummingbird Migration Celebration: 
Mark your calendars now for the 3rd Annual IAS Hummingbird Migration Celebration at Mary Gray Bird Sanctuary! This annual event will draw hummingbird enthusiasts from around the Midwest to Connersville, IN for a one day celebration of all things birds and hummingbirds. Participants can expect an assortment of activities on the beautiful Mary Gray Bird Sanctuary grounds.
About the Festival: The Indiana Audubon Hummingbird Migration Celebration is a festival for the tiny gem, the Ruby-throated Hummingbird. Multiple sponsors and partners provide an opportunity for all to learn about these amazing little birds, how to attract them, and how to keep them coming year after year. Activities include hummingbird banding demonstrations to view hummingbirds up close, guided nature walks, a native plant sale, programs about birds and other pollinators, kid's activities, vendor booths, live music, and more.
Venue:
Mary Gray Bird Sanctuary
3499 S Bird Sanctuary Rd
Connersville, IN 47331 
Phone:765-827-5109
---
| | |
| --- | --- |
| To Be Determined | Weldon, California |
Kern River Valley Hummingbird Celebration
Feeding Hummingbirds: A short lesson in hummingbird feeder maintenance and a recipe for hummingbird food. Hummingbird Identification Workshop: Outdoor Presentation on how to tell our local hummingbirds apart.Hummingbird Gardening: Lesson in what plants attract hummingbirds and butterflies. And Much More.
Kern River Preserve
8:00 am - 2:00 pm-
Contact: 760-378-2029
---
| | |
| --- | --- |
| No Update 2023 | Oak Hill, West Virginia |
New River Hummingbird Festival
Details:

Join internationally known hummingbird expert Dr. Bill Hilton Jr. for a morning of up-close, hands-on experience with Ruby-throated Hummingbirds. Hilton will capture, band, and release hummingbirds while explaining the secrets of their feeding, nesting, and migration behavior; he will talk about results of his ten years of work with ruby-throats in Central America and there will be plenty of time for questions and answers about hummers, including how to design a habitat to attract these tiny birds to your back yard or school grounds.


Preregistration admission is $10 per adult, $5 per child ages 15-18, free for ages 14 and under. Or $10 per person at the event.

Hummingbird feeders, t-shirts, and loads of plants will be available for purchase and donation at the event while supplies last.

Who will be there? Dr. Bill Hilton Jr, master bander, hummingbird expert, and one of Discover magazines "50 Best Brains in Science;" Rachel Davis: local nature guide and coordinator of New River Birding & Nature and Fayette County Education Fund; Terri Johnson: Honeysuckle Hill Gardens Nursery, Greenhouse & Gift Shop in Oak Hill; and other NRBN Team members.

Portions of proceeds go to the 501C3 Fayette County Education Fund - to secure the future of Fayette County by providing relevant Leadership and Environmental Training to the community, with an emphasis on youth education. New River Hummingbird Festival was born in 2010 as an outreach program of the New River Birding & Nature Center - Sharing the secrets of science and nature in the New River watershed with West Virginians and their friends.
Location:
Honeysuckle Hill Gardens
1177 Terry Ave.
Oak Hill, WV 25901



---
| | |
| --- | --- |
| No Update 2023 |        Charlotte, North Carolina |
11th Annual Hummingbird Festival.Reedy Creek Nature Center will host the festival. This is a fun family event to enjoy the outdoors in a festive environment.
Activities for all ages: 
Bir​d Banding by Susan Campbell

Story Telling by Mother Nature

​Birding Hikes

"The Great Hummingbird Challenge"

Face paingitng

Guest speakers and more

Join us from 9 a.m. to 3 p.m. at:
2900 Rocky River Rd.
Charlotte, NC 28215
Contact:
Nature Centers
980-314-1000
---
| | |
| --- | --- |
| August 19, 2023 | Henderson, Minnesota |
NOTE: This Information Flyer Will Be Updated When Released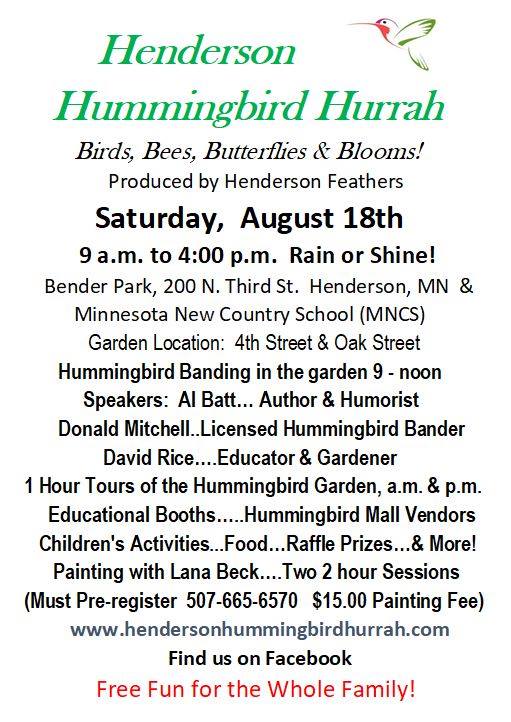 Henderson Hummingbird Hurrah

A celebration of the ruby-throated hummingbird sponsored by Minnesota River Valley Audubon Chapter, a birding festival offering opportunities such as: learning about the amazing little birds, attracting them, keeping them happy and much more.
Lots to do!

A licensed hummingbird bander will catch and band birds, allowing you to see them up close and learn about hummingbird research. There will also be a garden tour, speakers, book signing sessions, children's activities, and a Hummingbird Mall – all FREE!
See the hummingbirds!

Bring a blanket or lawn chair for a relaxing time in or near the garden enjoying the antics of these tiny flying jewels. The ruby-throated hummingbird can be seen in large numbers in August as they stop in Henderson at feeders and nectar producing plants on their southward journey to Mexico and Central America, where they spend the winter.
Remember your camera!

With the close views that our garden and feeder setups provide, you're sure to capture great images. The Henderson Hummingbird Hurrah allows veteran and beginning birdwatchers spectacular opportunities. Go beyond the backyard and celebrate hummingbirds with us!
Produced by Henderson Feathers & Sponsored by
Minnesota River Valley Audubon Chapter

WHEN: Saturday, August 18th , 2018
9 a.m. – 4:00 p.m. Rain or Shine!

WHERE: Bender Park, 200 N. Third St. &
Minnesota New Country School (MNCS)
Henderson, MN 56044
EVENTS:

Hummingbird Banding – 9:00 a.m. – Noon

Speakers: Al Batt, Donald Mitchell, Sarah Malchow,

Educational Booths: MRV Audubon, Jim Gilbert & More!

Children's Activities: Includes Coloring Contest/Cash Prizes!

Chimney Swift Information

Garden Tours: 1 Hour Morning & 1 Hour Afternoon with Master Gardeners: Sarah Malchow and Jackie Smith

Hummingbird Mall Vendors… Food… Raffle Prizes!!

Painting with Lana Beck: $15 (2 hr sessions) a.m. & p.m.
(Must pre-register for painting… 507-665-6570 Limited Seating)
---
| | |
| --- | --- |
| August 17 - 20, 2023 | Fort Davis, TX |
Davis Mountains Hummingbird Festival:
Speakers:
2023 DMHC Friday Evening Banquet  & Keynote Address


TBC's 2020 Celebration will feature our full program with hummingbird experts, afternoon seminars and diverse field trips limited to 200 registrants. Our featured speaker for 2020 is University of California professor Dr. Christopher Clark whose hummingbird research has focused on courtship displays, how feathers and wings produce sound, and bird flight biomechanics. Dr. Clark uses intriguing tools like high-speed cameras, sound recording equipment and wind tunnels for recording courtship displays. His keynote presentation will include his field work on hummingbirds in Costa Rica, Bahamas, Cuba, Guatemala, Mexico, Colombia, Ecuador, Chile, Texas, and California.



---
| | |
| --- | --- |
| No Update 2023 | Knoxville, Tennessee |
Wonder of Hummingbirds Festival!
Saturday, August 25, 2018 Festival Hours: 8 am – 2 pm
Banding Demonstrations: 8 am – 11:30 am*
*Banding is weather dependent, and may end earlier if hummingbirds can't be captured.
About the Event
The Wonder of Hummingbirds Festival began as a joint effort between Ijams and the Knoxville Chapter of the Tennessee Ornithological Society. The event features speakers on nature topics, wildlife educational demonstrations, and vendors selling food and drinks, plants, locally made arts and crafts, bird feeders and supplies, and garden items. But the main highlight of this event is the opportunity for visitors to get close to ruby-throated hummingbirds and learn about them during banding demonstrations by Mark Armstrong, a certified Master Bander.
Hummingbirds are harmlessly captured, weighed, measured and banded before being sent on their way. Banding provides a way to document hummingbird movement during migration. August and September are busy migration months in Tennessee with thousands of hummingbirds moving south on their way to wintering grounds in Central America and southern Mexico.
Also part of the event is a full schedule of wonderful education presentations.
NOTE: Ijams is still in the planning stages of this year's festival, so following is the 2017 schedule of events to give you an idea of what programs are featured, our 2017 sponsors and audio from a 2016 presentation.
2017 Event Schedule
Main Speaker Hall (Visitor Center)
9:30 am: Owl-ology 101 (Stephen Lyn Bales, Ijams Nature Center)
10:30 am: Secrets of Backyard Birds (Liz Cutrone, Wild Birds Unlimited)
11:30 am: Gardening for Hummingbirds (Chris Mahone, Propagation Specialist)
12:30 pm: Hummingbird for all Seasons (Mark Armstrong)
Glassroom Speakers (Visitor Center)
9:00 am: Birding 101 (Dr. Louise Conrad, Ijams Nature Center)
10:00 am: Citizen Science (Tiffany Beachy, Great Smoky Mountains Institute at Tremont)
11:00 am: Attracting Monarchs to Your Yard (Christie Collins, Ijams Nature Center)
12:00 pm: Backyard Butterflies (Steve McGaffin, Zoo Knoxville)
Children's Activities:
9 am–2 pm: Children's Crafts (Visitor Center Classroom)
8:30 am: Hungry, Hungry Hummingbirds
(Join us for a fun and energetic game about how hummingbirds feed.)
10:00 am: Stories and Songbirds
(Spend some time hearing stories and singing songs about nature!)
11:00 am: Hummingbird Hustle
(You'll need the energy of a hummingbird to play this fast-paced game!)
12:30 pm: Stories and Songbirds
(Spend some time hearing stories and singing songs about nature!)
Ticket Prices:
$7 Admission (ages 12 and up)
$3 Children (ages 5-11)
FREE (Children 4 and under)
$20 Family (Parents plus children)
Parking:
Parking for this event will take place in all Ijams Nature Center parking lots. In addition, visitors can park at Forks of the River Wildlife Management Area (3140 McClure Ln, Knoxville, TN 37920) and take a shuttle to the event.
Dogs:
Please note that we do not allow dogs at the Hummingbird Festival. Although dogs are welcome at many of our events, the Hummingbird Festival is just not a good fit since all of the speakers and the children's crafts are indoors (where dogs are not allowed) and dogs are not allowed at the banding station. Thanks!
---
| | |
| --- | --- |
| August 5, 2023 | Cadiz, Kentucky |
Land Between The Lakes Hummingbird Festival
Bon Voyage! It is 1,086 miles from here to the Yucatan. This weekend marks the beginning of the great hummingbird migration through Land Between the Lakes! If you love hummingbirds, this is the event for you! August brings hundreds and hundreds of hummingbirds as they migrate south to Central America. 
You can see as many as 200 of them in a single day at the Nature Station! Join us to celebrate this natural spectacle and watch the backyard beauties as they buzz around the native gardens, fueling up for the next leg of their long journey. Discover how you can help hummingbirds and other migrating wildlife, such as monarchs, bats, dragonflies, and songbirds, right at your own home! 
Stop by the native plant sale or the Pollinator Photo Gallery. Enjoy backyard habitat programs and demonstrations all weekend! This year, as we celebrate our 27th anniversary, our focus will be creating a "Paradise for Pollinators." Explore the tips & techniques from experts on how to "DIY" or make your backyard habitat a paradise for hummingbirds, native bees, butterflies, and more. And kids, there will be plenty of pollinator games, crafts, and activities to keep you busy all day! 
Location:
Woodlands Nature Station
3146 Silver Trail Road
Cadiz, KY 42211 United States
Contact:
Woodlands Nature Station
270-924-2299
jmpollpeter@hotmail.com (John Pollpeter)
---
| | |
| --- | --- |
| To be determined | Folsom, Louisiana |
Folsom Butterfly & Hummingbird Festival
Website Contact: 985-796-9309

---
Hummingbird Festivals in September

---
| | |
| --- | --- |
| To Be Announced for 2023 | Holly Springs, Mississippi |
Hummingbird Migration Celebration
Join us for the 19th annual Hummingbird Migration and Nature Celebration, one of the Southeast's biggest nature festivals. Highlights include renowned guest speakers, guided nature walks, live animal shows, kids activity zone, wagon rides, nature-themed arts & crafts vendors, native plant sale and up-close views of Ruby-throated Hummingbirds being banded and released!
Website
Contact: 662-252-1155
Mitch Robinson at mrrobinson@audubon.org
Directions:
285 Plains Road, Holly Springs, MS 38635
Strawberry Plains Audubon Center is located on Hwy 311. From Holly Springs Town Square:  Hwy 7 North. Take left onto Hwy 311. Turn right to stay on Hwy 311 North (follow signs for Strawberry Plains Audubon Center/Mt. Pleasant) and go 2.5 miles. Facility on the right.
We are 9.5 miles from the intersection of Hwy 72 and Hwy 311. Coming from Memphis, TN:  take either Hwy 72 from Collierville, TN and turn right onto Hwy 311, or take Hwy 78 east to Exit 26 (West Holly Springs), travel east to Hwy 311 North. Turn left onto Hwy 311 and travel 2.5 miles. Facility on the right.
---
| | |
| --- | --- |
| To Be Announced | St.Francisville, Louisiana |
Feliciana Hummingbird Celebration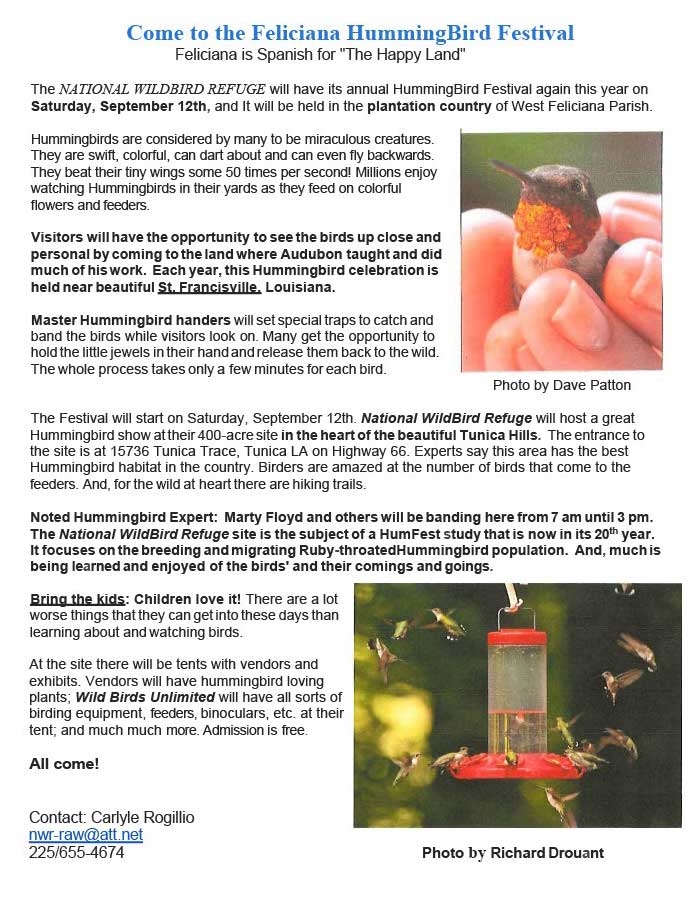 Phone: 800-488-6502

---
| | |
| --- | --- |
| To Be Announced | Kleb Woods Hummingbird Festival |
People of all ages can see hummingbirds up close and learn about them as they are banded. Houston Audubon raptors will be on display throughout the day. We will also have nature walks, farm tours, blacksmith demonstrations, indoor presentations, and kids activities.
This event is FREE and open to the public.
Location:
Kleb Woods Nature Preserve
20303 Draper Rd. Tomball, TX 77377
Saturday, September 14, 2019
9:00 AM - 3:00 PM
Phone: 281-357-5324
Email: klebwoods@pct3.hctx.net
---
| | |
| --- | --- |
| To Be Announced | Diamondhead, Mississippi |
The Hummingbird Festival  in Diamondhead, MS not only  provides family-friendly fun for those who are interested in and love hummingbirds, but also serves as a fundraising event for Master's Call Ministries International (MCMI). It began in 2012 at the home of Robert and Rhonda Vaughan. The Festival has grown and continues to grow each year with new vendors, a variety of speakers and presentations, visitors from around the South, and most importantly...hummingbirds! Each year, the hummingbirds come back with multiplied numbers!
Featured at each event is James Bell, a certified bander from Carriere, Mississippi, who captures, weighs, measures, tags, and releases hummingbirds so they can be further studied and better understood. In 2017, James Bell was able to band 20 birds during the one-day event, and people flocked around to see the little guys up close and get a chance to even hold one!
Our Work
     As a hummingbird event, we work to educate our visitors about the habitat, migration patterns, feeding needs, and natural friends and enemies of these little birds. We also provide exciting experiences including: live music, food, door prizes, lots of vendors, and the ability to witness the banding of multiple birds and observe dozens of hummingbirds as they go about their business! With each banding, a participant is allowed to hold the subject bird briefly before it is given its freedom again, and those who don't actually hold a hummingbird are allowed to touch it to feel its heart beat. Also with vendors, many of whom have hummingbird-related products available for purchase, participants are able to find items to take home with them and share about their experiences with family and friends. Food vendors are also on site to help make the day both enjoyable and comfortable for all. 
     This annual event not only serves to provide family-friendly fun for all, it also serves to support vital programs for orphans and underprivileged children world-wide. The festival began in 2012 with the proceeds being used by Christian Aid For Children to purchase school lunches for children who cannot otherwise afford them, as well as helping with meals and clothes for needy families. This same effort is continued today by Master's Call Ministries International (MCMI), who also supports orphans in Sierra Leone, Africa and benevolence efforts in Israel.
     MCMI is a nonprofit organization whose goal is to continue the mission of Christ on this earth. We do this in 4 main ways: (1) Raising funds to help orphans and underprivileged children across the globe, (2) Working with local ministries to help with outreach events, (3) Empowering individuals in their walk with Christ through Biblical Counseling and discipleship, and (4) Equipping ministries around the globe to spread the good news about Jesus Christ. Central to all of these things is an emphasis on TRUTH. And for this reason, regardless of denominational lines drawn by man, we seek to help and work with ministries and individuals that are willing to put truth above tradition, faith above fear, and hearts that hunger for more of God above all.
8:00 AM - 3:00 PM
2356 Airport Drive
Diamondhead, MS 39525

228-224-1568
---
| | |
| --- | --- |
| Sept. 14 - 17, 2023 | Rock Port, Texas |
Hummingbird Celebration


About the event:
The HummerBird Celebration is an annual event held each September in the charming and friendly coastal towns of Rockport and Fulton. The purpose is to celebrate the spectacular fall migration of the Ruby-throated hummingbird through the area, first documented by Connie Hagar in 1938, and to expand one's knowledge of all birds, and associated wildlife.The Celebration is fun, educational and inspiring. There is something for everyone and it's designed for those who just enjoy birds to the more experienced birder. If you enjoy nature, or some aspect of it, then this event is for you.

Welcome from the Chamber:
Located on the Texas Gulf Coast, on the bay of Aransas, the towns of Rockport and Fulton offer a special charm. Since their earliest days, Rockport and Fulton have attracted visitors with their climate, their friendly people and always, their wonderful birds.

The Tourism Development Council of the Rockport-Fulton Chamber of Commerce is pleased to help and assist the annual HummerBird Celebration Committee in making this event spectacular for all those who attend.

Each year the staff of the Chamber look forward to entertaining those who attend the HummerBird Celebration. It is a pleasure to try to accommodate each and everyone. It is truly remarkable to work behind the scenes as part of the team that coordinates an event which pleases so many people in a comfortable sort of way.

To our regular attendees and to anyone wishing to attend for the first time, you are warmly welcomed. Hope to see you here and happy birding until then. Call the Chamber office if we can assist you.

What's up this year?
We hope you enjoy yourself as we celebrate the spectacular fall migration of the Ruby-throated hummingbird…and the fun of birding. Go on field trips, boat trips, see the hummers stocking up at feeders as they prepare for their amazing trip to their winter home, and discover what's new for the birding enthusiast at our "nature only" vendor booths.

We are excited about our speaker lineup! Programs and workshops are indicated in the schedule and will take place in two locations – Auditorium and Middle School. Information and tickets for workshops and trips will be available at the Auditorium.

Don't be shy about asking our volunteers for help—they're ready…and above all, have fun!

Celebration of all birds during fall migration
It is important to remind people how the name of this event came about.
When Betty Baker and Jesse Grantham and others, began developing this event, their intent was to bring attention to this great phenomena of the fall migration of ruby-throated hummingbirds. They wanted everyone to not just focus on hummingbirds but all birds during the tremendously beautiful fall migration. Hence came the name HummerBird Celebration. A Celebration, not a festival with tents and carnivals, but a learning extravaganza!

Hummer Home Self-Guided Tours Local homes and businesses plant and maintain their yards year round to attract hummingbirds. During the event, you are invited to visit their yards to see the plants that lure the birds and to see them feeding in preparation for their incredible journey south. It is possible to see over 100 hummingbirds in one yard. A self-guided tour map is available at any information booth and at the Rockport-Fulton Chamber of Commerce during the days of the event. Please enjoy the hummingbirds and the generosity of the Hummer Home Hosts. You'll find fun 4 to 5 ft signs made in the shape of a hummingbird placed on a post in front of the Hummer Home. The signs were designed by local student artists. Walk quietly to the residence. Enjoy!

Speakers giving programs in our local schools:
For years we have tried to get the youth involved in this event. With the time of year, sports going full force and activities galore, it is difficult for them to be involved. This year we have a committee member that is coordinating "speakers into classrooms".

---
| | |
| --- | --- |
| Sept. 17 & 24, 2023 | Lake Jackson, Texas |
Xtreme Hummingbird Xtravaganza

8:00am to noon. Autumn is hummingbird season in Texas, as thousands of these tiny creatures move through the state on their southward migration to Mexico and Central America. Join us September 130h and 17th to see hummingbirds being banded, adopt a hummingbird, browse the Nature Store, walk the nature trails, or buy a plant to attract hummingbirds and butterflies.
---
Hummingbird Festivals in October

---
---
| | |
| --- | --- |
| October 21 & 22, 2023 | Hogansville, Georgia |
"The City of Friendly People" invites you to the annual Hogansville Hummingbird Festival, held the third weekend of every October in historic downtown Hogansville, GA. Our Main Street will be bustling with food, crafts, antiques, music, local artists, open storefronts, rides, and activities for the whole family. Two days of old-fashioned family fun! Includes free parking, shuttles, handicap access, ample security, and kids play area. Vendors and sponsors are welcome!
About the Festival:
The 2020 Hogansville Hummingbird Festival is an outdoor Festival for the whole family, to be held Saturday and Sunday Oct 17 and Oct 18, 2020 in historic small town Hogansville, Georgia . Start time on both days is 10:00 AM. The Hogansville Hummingbird Festival is a true small town festival, featuring 200 vendors, food court, live music, kids area, artisan crafts, and more. All proceeds benefit the Hogansville Charitable Trust. 
To find the downtown Hogansville area on a map, use the address 400 East Main Street, Hogansville, GA.
The Hogansville Hummingbird Festival, 2020 being its 23rd year, is the principal fund-raising vehicle for the Hogansville Charitable Trust, a 501(c) 3 Georgia non-profit corporation whose stated purpose is the renovation, preservation and improvement of historic and municipal properties in and around the City of Hogansville, Georgia. The Festival has raised in excess of $325,000 for this purpose. However, by using these dollars primarily as matching funds for Federal, State and other grants, the money has been leveraged into more than $3,000,000 in improvements for the City. The projects have included renovations of the historic Royal Theater, now used as Hogansville's City Hall, three phases of StreetScapes and construction of the Tower Trail which includes a walking trail from Hogansville Elementary School, by the historic Water Tower, and ending on Oak Street by the City's now retired water treatment plant, and an outdoor classroom. In 2016, the Charitable Trust purchased land in the center of downtown, which has since been donated to the city and named Askew Park. This preserves greenspace for our beautiful historic downtown. In addition, the Festival has donated to such charities as the American Red Cross' Katrina Relief Fund, the Shriners Hospital, the Boys and Girls Clubs of West Georgia, "Breast Friends for Life," a Troup County support group for breast cancer patients, Hogansville's GED program, and "God's Bread Basket," Hogansville's Food Bank.
---
Festivals by State
---
ALASKA
ARIZONA
High Country Hummer Festival

CALIFORNIA
ILLINOIS
INDIANA
Kentucky
Louisiana
MISSISSIPPI
NEW MEXICO
NORTH CAROLINA
TEXAS
---