NOW AVAILABLE!
HUMMINGBIRD FACE MASKS!
We want our devoted "Hummingbird Enthusiasts"
to stay safe as caretakers of our beloved hummingbirds!
Order Your's Here!
Fliteline 30 OZ
Hummingbird Feeder 
SEBCO360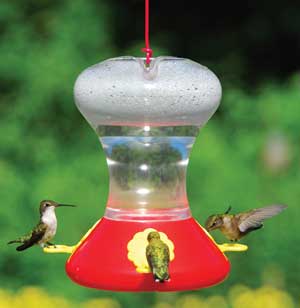 Fliteline 30OZ Hummingbird Feeder.
Features:

3 nectar stations with bee repellents and perches.

Flat top and snap apart base for easy filling, & easy to clean.

Pole mount or hang.

Generous 30 oz capacity.

Made in the USA.
---
Price: $14.99
Fast Shipping!

Most orders leave our warehouse within 1 to 2 business days!

---
Fliteline Feeder 30oz.
---