6 Styles Available; Order Your's Here!

Hummingbird Obsessed
by Mary Kay Brown
(Alamogordo, NM)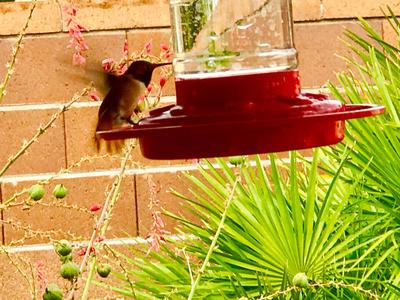 This is my roufus
Hi.. My name is Mary Kay and I recently moved to Alamogordo, New Mexico in March of this year.... I have always loved hummingbirds but this is the first year I really have attracted them. I saw a black chin in May on the red yucca plant and have been obsessed ever since.... It is now September 3rd and I still am seeing them. I have seen I think 13 at once but I always have tons of feeders out.... I bought lots of flowers and lots of feeders. I am so anxious to learn what each hummingbird is. I have identified 2 black chins, a calliope, 3 roufous (tho now I only seem to ever see one at a time), and I am pretty sure I have a broad tail. I have pictures of many that I do not know what they are but one in particular has something like a tuft on it's crest and can not figure that one out for the life of me... I am sure I have many juveniles and females.... I would really love to find out what my one hummer is that has the bump or tuft of feathers on it's crown.I will post some photos if I am able to. I am no professional photographer but some of my photos are fairly good considering they are just taken with an iphone 7...
Join in and write your own page! It's easy to do. How? Simply click here to return to Your Hummingbird Photos.