HummZinger Excel Tray Feeder
HummZinger Excel
Tray Hummingbird Feeder  ASPECTS143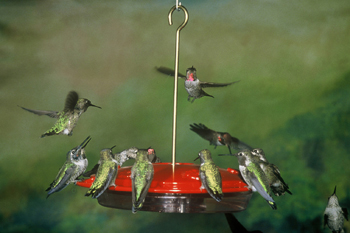 HummZinger Excel Tray Hummingbird Feeder.
Features:
Concerned about hard-to-clean nectar feeders?
Take a look at the Aspects' HummZinger line!
The bright red cover attracts hummers from a distance and removes easily so the bowl can be cleaned quickly and thoroughly.
Polycarbonate construction enables a Lifetime Guarantee.

An integrated wrap-around perch encourages the birds to sit and stay awhile.

Built-in ant moat. Easy cleaning and filling.
Hang or post mount. Raised flowers divert rain.
Drip and leak proof. 16 oz. capacity
---
Price: $31.99
See Customer Reviews
Fast Shipping!

Most orders leave our warehouse within 1 to 2 business days!

---
Customer Reviews:
by Laurie K. March 9, 2017
Thanks for the note.  I "stumbled" on your site while looking for other things to do with Hummingbirds.  I'm very pleased by your quick service and I can't wait to put them up.  Thanks for doing a follow up.  I've already given your site to my sisters.  Laurie

---