TEMPORARILY, WE ARE NOT TAKING ORDERS ON ANY PRODUCTS SOLD IN OUR STORE.

We are so sorry but due to the current pandemic crises, our distributor has stopped distribution and closed down temporarily. We look forward to re-opening our store as soon as the situation permits. We will post a big "OPEN" sign when shopping is resumed.
Stay safe and thank you for choosing The Hummingbird Guide
FLOWER/PLANT ORDERS ARE PROCESSING THROUGH OUR PARTNER, DIRECT GARDENING.
WE WILL UPDATE THIS WHEN OUR STORE IS RE-OPENED!
STAY TUNED,...... THIS IS JUST A TEMPORARY PAUSE!
Multicolor Hummer Ring
Starter Kit

BE126
The Multicolor Hummer Ring Starter Kit includes everything you need to feed Hummingbirds out of your hand.
Bring a wealth of Hummingbirds right to you and enjoy watching them dine up close with this Backyard Essentials HummerRing™.
A port in the center of each colored cap allows the bird to dine. The base reservoir holds 0.3oz/10 milliliters of nectar.
Use the plexiglass ring holder to train Hummingbirds to feed from the rings or when you need to rest from the fun to avoid any spillage.
Once Hummingbirds have become acclimated to the ring, place on your hand. Remaining still and extending your arm outward invites these fascinating birds to dine, so you can watch their feeding habits up close.
The all plastic construction of each unit makes them perfect for children, helping them appreciate the natural world in an exciting new way.
Easily clips apart for cleaning and is top rack dishwasher safe.
Made in the USA.
Multicolor Hummer Ring Starter Kit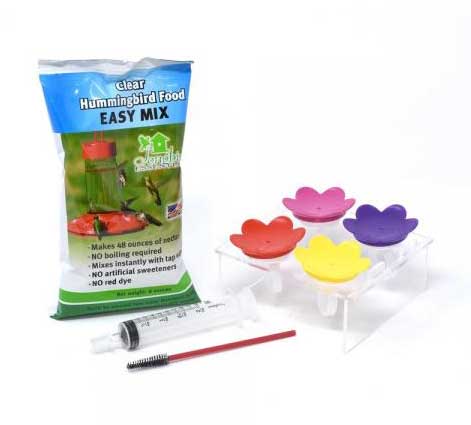 ---
Follow the instructions on the Nectar Pack and use the Easy Fill Syringe to load up the ring!
Multicolor Hummer Ring Starter Kit Includes:
1-Hummer Red Ring 
1-Hummer Yellow Ring 
1-Hummer Pink Ring 
1-Hummer Purple Ring 
1-Ring Feeder Easy Fill Syringe 
1-4 pc. Plexiglass Trainer & Ring Holder
1-Red Port Brush 
1-8 oz. Clear Hummingbird Nectar 
---
Price: $29.99
---
Fast Shipping!

Most orders leave our warehouse within 1 to 2 business days!

---
Multicolor Hummer Ring Starter Kit