FTC Disclosure:  If you make a purchase via a link on this site, We may receive a small commission on the transaction - at no added cost to you. Thank you!
Ruby
Hummingbird Feeder
10 oz
CLASSIC35

This Ruby Hummingbird Feeder features a glass bottle and a built in ant moat with a 10 ounce capacity.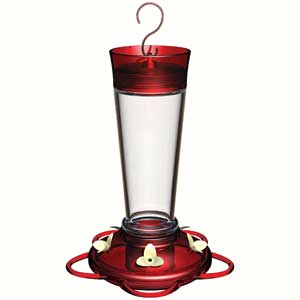 Ruby Hummingbird Feeder Features:


Glass bottle with built in ant moat.
Wide mouth bottle is easy to fill and clean.
10 oz. capacity.
---
Price: $24.99

See Customer Reviews
Fast Shipping!

Most orders leave our warehouse within 1 to 2 business days!

---
Customer Reviews:
By Donna P. on February 8, 2017:
Terrific!  I traded in a plastic feeder for a very pretty green hand blown glass feeder which was met with mediocre enthusiasm by the hummers that had been regularly visiting, until they ultimately stopped altogether. 

I put out the feeder I ordered from you and within a couple of hours had coaxed the hummers back, and they've been regulars ever since.  Nice feeder, glad to find out the storage area is glass rather than plastic. 

I've put out the nesting material and so far no interest.  But, I will say, it's been fairly steadily raining since then.  Hopefully when it gets a chance to dry out I'll see some activity.

Thanks.

---