We Are Bigger Than You (And Eat More)
by Russ
(La Jolla)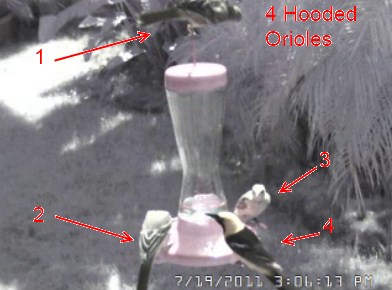 Four Hooded Orioles on a hummingbird feeder
Hummingbirds seem to be one of the happiest and carefree birds on the planet. Their day seems to be all about zipping around the garden getting a quick fix of nectar from either brightly colored flowers or a quick trip to the hummingbird feeders. To cool off or bath, we watch them fly through the water sprinkler when we water our garden, or stop by the waterfall for a longer bath. Even when a potential hummingbird protagonist encroaches on a 'claimed' feeder, all hummingbirds chirp and zig zag through the air back to their watchtower perches in the trees. They must be having fun, because they repeat this song and dance from sunrise to sunset.


So what can make a hummingbird unhappy? I think it has to be Orioles! We certainly enjoy seeing the Orioles on our feeders. I can hear them chirp in the trees before they descend on a feeder. The Hooded Oriole males are spectacular with their bright colors of yellow and jet black. However, I feel sorry for the poor hummingbird. Our Orioles turn out to be pigs. They can easily drink a hummingbird feeder dry in a day, and when you get three hanging on one feeder – there is no way a hummingbird can squeeze in.
You can watch the Hooded Orioles and hummingbirds at our feeders at http://www.hummingbirdport.com. We have three (3) live streams to catch all the daily action. We have two Hooded Oriole families now. Males usually visit the feeders starting at 6:30am Pacific Time.