FTC Disclosure:  If you make a purchase via a link on this site, We may receive a small commission on the transaction - at no added cost to you. Thank you!
A very hot day in July
by H.Kathy Hollick
(Lynden, WA)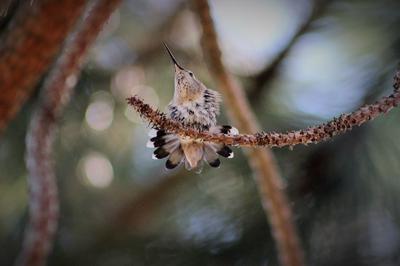 Having just graduated to the Cannon Rebel T3 camera I was anxious to capture some quality photos of the hummingbirds that frequent our yard and feeders.
We feed the Anna's Hummingbirds year round as we are in the Pacific Northwest, Washington State, just below Canada about 4 miles.
Quite often when I am outside with the camera I will call for them by making clicking sounds and when they click back I can tell which area of the yard they are resting.
On this particular day a female Anna's was in the long needled pine tree and was quite high up.
I stood almost directly beneath her and began to click away just as she was fanning her tail and striking various poses, as if she were posing and understood exactly what I was after. That perfect picture!
I could not be happier with the images that I captured that day and continue to capture of these wonderful creatures that I feel so blessed to experience.