COVID-19 ALERT: Unfortunately, stock of many items at our distributor is on backorder due to the pandemic and manufacturing issues. Their stock changes from day to day even hour to hour, so it is almost impossible to keep up with it. As a result, you may get a notification that your order is on backorder for a short time. We are very sorry for the inconvenience and thank you for your patience.
Stay safe and thank you for your patience and choosing
The Hummingbird Guide.
BirdCam Pro
WINGBCPRO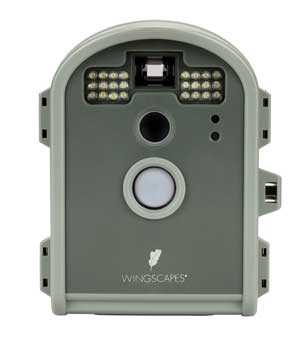 Features:
The BirdCam Pro is a weatherproof, motion-activated, digital camera that takes crystal-clear photos and videos of wildlife.

It is an 8 MP camera that includes an adjustable flash for nighttime photos and videos.


A timelapse setting for recording non-animal subjects like weather, plants, or construction.

It features a 2 inch color preview screen and can also send images directly to your computer with an optional Wi-Fi SD card.
---
Discontinued
We Recommend the Hawk Eye HD Nature Cam.

---
Fast Shipping!

Most orders leave our warehouse within 1 to 2 business days!

Recommended Accessories:
Camera Power Adapter:


Wingscapes Camera Indoor A/C Power Adapter lets you power the BirdCam, TimelapseCam 8.0 and our other cameras from a regular, indoor outlet.
---
Wingscapes Birdcam Pro
---