Clear Antique Bottle Glass Feeder
Clear Antique Bottle Glass Hummingbird Feeder
PP8118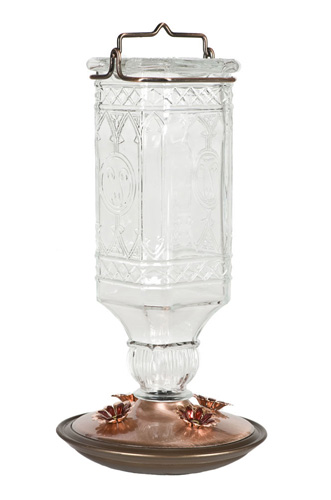 Clear Antique Bottle Glass Hummingbird Feeder Features:

Clear Antique Bottle Hummingbird Feeder features a clear antique bottle and a brushed copper base.

The hardened glass nectar reservoir has a unique square shape.

Four(4) red decorative flower feeding ports.

The base easily comes apart and reassembles for easy cleaning.

24 oz. capacity.
---
Price: $29.99

See Customer Reviews
Fast Shipping!

Most orders leave our warehouse within 1 to 2 business days!

---
Customer Reviews:

By Cindy G. on February 19, 2016:
The hummingbird feeder is prettier in person.  Thank you so much!  I am sure my friend will love it. 

---