COVID-19 ALERT: Unfortunately, stock of many items at our distributor is on backorder due to the pandemic and manufacturing issues. Their stock changes from day to day even hour to hour, so it is almost impossible to keep up with it. As a result, you may get a notification that your order is on backorder for a short time. We are very sorry for the inconvenience and thank you for your patience.
Stay safe and thank you for your patience and choosing
The Hummingbird Guide.
Coming in for a landing
by Kristin Cramer
(Lakewood, CA USA)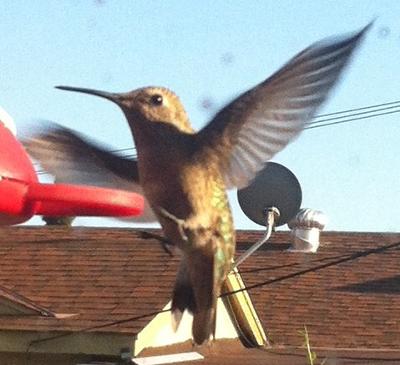 I was just hanging out in my garage. We have a window that we can see the feeder through. I noticed this little gal coming in and thought I'd snap a picture with my iPhone. She seemed not to care and to be watching me get closer to the window to get a few more. Then all of the sudden, she flew off and then right back onto the feeder. I happened to catch her right as she landed back onto it. I think it's pretty good for an iPhone pic.