NOW AVAILABLE!
HUMMINGBIRD FACE MASKS!
We want our devoted "Hummingbird Enthusiasts"
to stay safe as caretakers of our beloved hummingbirds!
Order Your's Here!
Droll Yankee Window
Hummingbird Feeder
DYWH3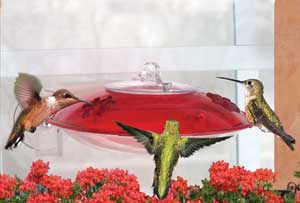 Droll Yankee Window Hummingbird Feeder.
Features:
This two port leak-proof feeder is easily filled by removing the clear cover.

Included with each feeder is a Hummer Port Brush and two Nectar Guard Tips, which prevent insects from contaminating the sweet nectar.

Sturdy and smart looking Nectar Guard Tips.

6 oz. nectar capacity.
---
Price: $29.99
Fast Shipping!

Most orders leave our warehouse within 1 to 2 business days!

---
Droll Yankee Window Hummingbird Feeder
---