NOW AVAILABLE!
HUMMINGBIRD FACE MASKS!
We want our devoted "Hummingbird Enthusiasts"
to stay safe as caretakers of our beloved hummingbirds!
Order Your's Here!
Faceted Amethyst
Hummingbird Feeder
SE4001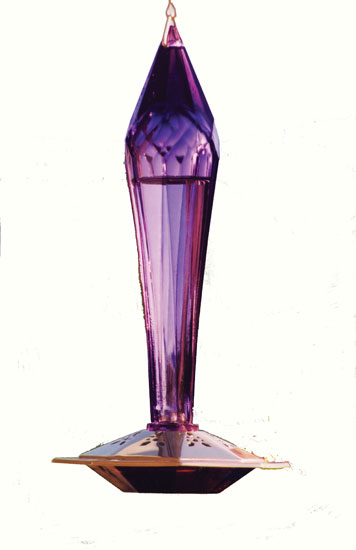 Faceted Amethyst Hummingbird Feeder.
Features:

Handcrafted blown glass nectar bottle.




Solid copper base with openwork feeding ports.




Integrated perch invites hummingbirds to sit and dine.




Amethyst sunlit glow shines through floral pattern base.




6 oz. capacity.
---
Price: $39.99
Our Popular Feeder Through Our
Kitchen Window!
Fast Shipping!

Most orders leave our warehouse within 1 to 2 business days!

---
Faceted Amethyst Feeder
---
Your first paragraph ...