Garden Top-Fill Mason Jar Blue
Hummingbird Feeder

NWGHF9
The Garden Top-Fill Mason Jar Blue Hummingbird Feeder is constructed of a beautiful thick hand-blown glass base and lid.

FEATURES:
Beautiful, thick hand-blown glass base and lid
Decorative perching ring enables hummingbirds to perch while feeding
Easy Fill & Clean™
Glass easily lifts out of hanging bracket for filling and cleaning
Exclusive 4" wide lid enables easier filling and cleaning
3 removable flowers for easy cleaning
Dishwasher safe
Exclusive, innovative gaskets on lid and flowers for tight leak-free fit
Perching ring made of metal with a durable, powder-coated 'hammered' finish
Includes decorative hanging chain
Lifetime warranty
Dimensions: Glass 2.5"Hx5.75"Wx5.75"D; With hanger 9"Hx7"Wx7"D  
Capacity:  up to 18 oz
---
Please Note: When Un-packaging the feeder, the chain to hang the feeder is located in a small plastic bag taped to the underside of the styrofoam packaging material.
PRICE: $35.99

---
Transform Your Natures Way
Top-Fill Feeder
Into a Glowing Lantern at Night!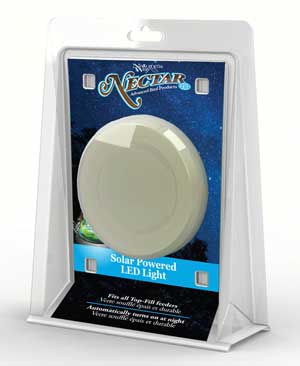 FEATURES:
Solar-powered LED lighting transforms your Nature's Way top-fill hummingbird feeder into a beautiful decorative nighttime lantern for your landscape
LED lights automatically turn on at night and off during the day
Silicone gasket locks LED in the feeder lid and prevents damage from nectar
Fits all Nature's Way top-fill hummingbird feeders

Rechargeable AAA battery included!
PRICE: $11.99
---
Fast Shipping!

Most orders leave our warehouse within 1 to 2 business days!

Hummingbird Guide

›
Decorative Feeders
› You Are Here