Ruby Sipper Lavender Dish Window Feeder
FTC Disclosure:  If you make a purchase via a link on this site, We may receive a small commission on the transaction - at no added cost to you. Thank you!
Ruby Sipper Lavender Dish Hummingbird Window Feeder
DYRS3WL

The Ruby Sipper Lavender Dish Hummingbird Window Feeder is one of Droll Yankees' latest line of feeders. This window feeder is very attractive and has a 5 ounce capacity which is a great size for displaying multiple feeders in a "Feeding Zone" for our territorial friends. We establish several "Feeding Zones" on our property  and hang multiple feeders in each zone. These feeders are a great choice if you would like to establish your own zones. The more feeders available for our friends; the more hummers you will have to enjoy! 
This is the only feeder that I know of which comes with it's own port cleaning brush!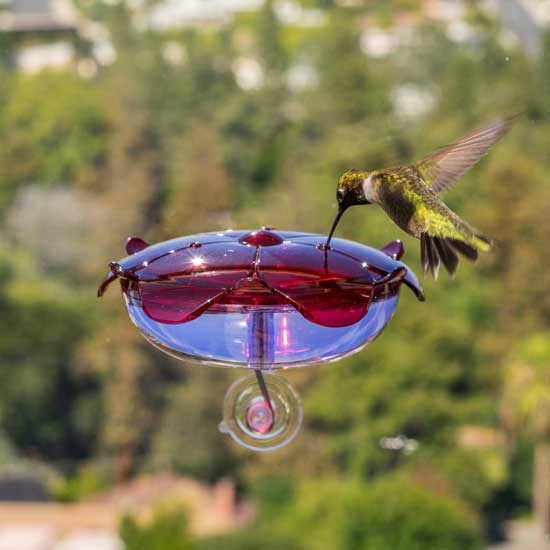 Ruby Sipper Lavender Dish Hummingbird Window Feeder Features:

A perfect pairing of whimsical fun and practical performance, all in one stylish saucer feeder.

Floats on a stainless steel hideaway wire mount.

Low profile suction cup holder brings birds in close.

Eye-catching ruby red attracts hummingbirds instantly.

Lavender dish keeps the nectar level visible.

Leak-proof design.

The 5 oz. capacity makes it an ideal feeder for establishing multiple feeding zones for territorial hummingbirds.

UV stabilized polycarbonate construction.

Perfect Little Brush included to keep feeder ports clean.

Made in the USA.
---
Price: $21.99

TEMPORARILY OUT OF STOCK
Fast Shipping!

Most orders leave our warehouse within 1 to 2 business days!

---