COVID-19 ALERT: Unfortunately, stock of many items at our distributor is on backorder due to the pandemic and manufacturing issues. Their stock changes from day to day even hour to hour, so it is almost impossible to keep up with it. As a result, you may get a notification that your order is on backorder for a short time. We are very sorry for the inconvenience and thank you for your patience.
Stay safe and thank you for your patience and choosing
The Hummingbird Guide.
Songbird Birdbath
SE5005
SE5006
SE5007
SE5008

This glass songbird birdbath features three beautiful and vibrant colored songbirds sitting on a tree branch.
Available with a stand, stake, or hanging chain!

Please Note:
Due to the size/weight of the birdbaths and birdbath stands we cannot include them in the
Free Shipping Promotion.

---
20 Inch Birdbath (No Stand)
SE5005


Features:
Large 20 inches in diameter without stand.
A Trio of beautiful and colorful songbirds


Songbird friendly with textured bottoms and correct depths.

Glass design makes birdbaths weather friendly.

Attractive enough to display indoors, embossed with gorgeous and vibrant colors.
Price: $39.99

---
20 Inch Birdbath with Stand
SE5006


Birdbath is 20 Inches in Diameter




Sturdy Powder Coated & Rust Resistant Stand

Stand Folds for Easy Storage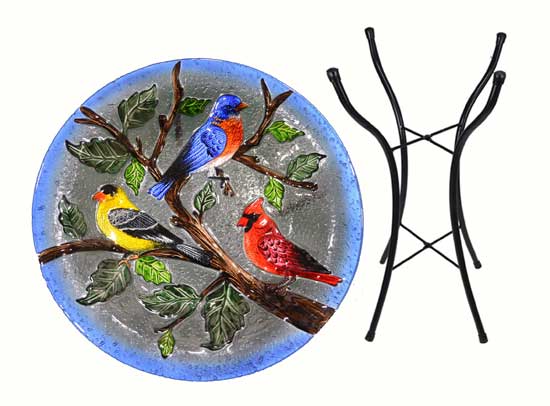 Price: $54.99

---
 12 Inch Birdbath with Stake
SE5007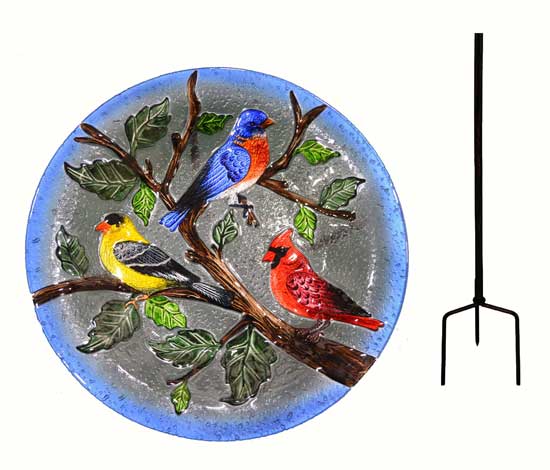 Price: $29.99

---
12 Inch Birdbath With Hanging Chain
SE5008


Birdbath is 12 Inches in Diameter

Comes with a Hanging Chain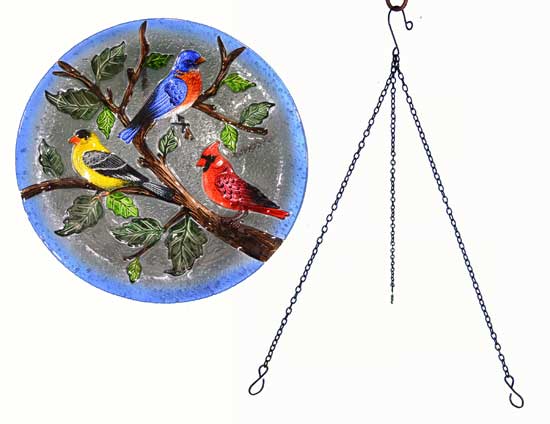 Price: $34.99

---
Fast Shipping!

Most orders leave our warehouse within 1 to 2 business days!

---
Songbird Birdbath
---